Ballay is 26 years old and comes from northern Sierra Leone, where she lives with her husband and children. After already having had three children, Ballay and her husband were surprised to discover last year that they were expecting a fourth baby.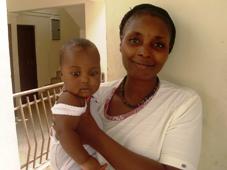 Ballay went into labor while working as a petty trader in her local village. She went home alone and delivered a beautiful baby boy. Following the delivery, however, Ballay felt that all was not well. Upon examining herself, she felt a tiny hand protruding—twins. Her husband assisted her to the nearest hospital, which took most of the day, only to discover that there was no doctor working. Ballay was transferred to another hospital, where her stillborn daughter was delivered via emergency cesarean section. Ballay had a severe hemorrhage and required multiple blood transfusions. The entire ordeal cost more than 400,000 Leones (US $100)—money that Ballay's husband will be paying off for a long time to come.
And as if the emotional pain of losing her baby was not enough, soon after her prolonged labor, Ballay started to leak urine steadily.
Several months later, Ballay was discovered in her village by one of the Mercy Ships screening teams and brought back to the Fistula Care–supported Aberdeen West Africa Fistula Center, where she underwent fistula repair surgery.
Ballay says, "When I arrived, I was very frightened because of the last time [cesarean section] it was a white doctor, when I had to have the blood [transfusion]. I thought the same thing would happen this time."
As Ballay sang and danced with her son at her Gladi Gladi, a ceremony celebrating her successful surgery and healed body, she cried tears of joy: "Mercy Ships has saved my life—now I will be happy with my children when I am old. Tenki!"