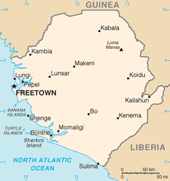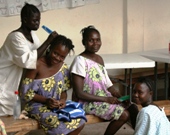 *Services in Sierra Leone were supported under the previous Fistula Care project (2007-2013). Visit the Countries page to learn about countries currently supported under the new Fistula Care Plus project.
Sierra Leone is a tropical country on the West African coast. Despite great mineral wealth, Sierra Leone remains one of the poorest countries in the world. It is now rebuilding after a protracted civil war that ended in 2002. Sierra Leone is among the most dangerous places in the world to bear children.
Fistula Care supported activities at the Aberdeen Women's Centre (AWC) in Freetown.
Program Results: 2007 – 2013
A total of 1,624 fistula repair surgeries supported.
The AWC provided on the job training in fistula and obstetric related topics to all its nurses on an ongoing basis. A core group of 27 nurses received several trainings on fistula and obstetric related topics.
Thirteen surgeons were trained in fistula care and repair, and six surgeons received follow-up training.
Supported Site
The Aberdeen Women's Centre (AWC) opened in April 2005 in the Aberdeen neighborhood of Freetown. Initially affiliated with Mercy Ships International, the AWC is now managed by the Gloag Foundation. It can accommodate 26 fistula patients in its wards. The AWC focused exclusively on providing fistula treatment services for five years. In April 2010, it opened a maternity unit offering emergency obstetric care in the hopes that the AWC could prevent obstetric fistula and decrease Sierra Leone's alarmingly high maternal mortality rate. The AWC implements evidence-based practice (such as the use of the partograph) in order to deliver a high standard of care. Expert midwives offer on-the-job training and support for staff development.