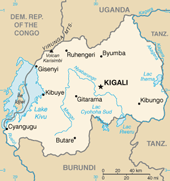 *Services in Rwanda were supported under the previous Fistula Care project (2007-2013). Visit the Countries page to learn about countries currently supported under the new Fistula Care Plus project
Rwanda, known as the land of 1,000 hills, is a landlocked country in Africa's Great Lakes region. It is the most densely populated country in Africa, with a population of approximately 11 million people in an area of 26,338 square km. Advances in economic growth and health areas, such as family planning, in recent years has been rapid, but there are many obstacles remaining to make motherhood safer for Rwandan women.

USAID-supported fistula services in Rwanda began in October 2006. Fistula Care worked with four public hospitals:
Central University Teaching Hospital (CHUK), Kigali

Kanombe Military Hospital (KMH), Kicukiro

Kibogora Hospital, Southwest Province

Ruhengeri Hospital, Ruhengeri, North Province

Some assistance in equipment and supplies was also provided to three additional public facilities:
Gahini Hospital, Muhanga district

Kabgayi Hospital, Muhanga district

Nyamata Hospital, Bugesera district

Program Results: 2006 – 2013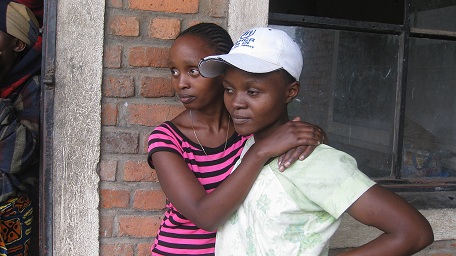 A total of 1,220 fistula repair surgeries supported.
227 nurses were trained in pre- and postoperative fistula care.
Twenty-five surgeons received training in fistula repair with USAID funding.
Theater space at Ruhengeri was renovated, and Ruhengeri, CHUK and KMH were provided operating theater equipment and supplies.
Supported Sites
Central University Teaching Hospital (CHUK) of Kigali was founded in 1918.  In the beginning it was only a dispensary but, over time, it became first a hospital and then university teaching hospital.  Today, the CHUK is a national center of medical training and a referral hospital managed by the Ministry of Health.  Forty-two of its 418 beds are for maternity services where the specialists treat a wide variety of gynecological problems.  The CHUK's maternity services program includes the repair of at least two fistulas per week.  CHUK's mission is to assure the provision of quality health services, to serve as a center of training and research and to provide technical assistance to district hospitals.

Kanombe Military Hospital (KMH) is a military hospital that also serves civilians in the district of Kicukiro. It is a 360-bed facility with 49 beds for obstetrics/gynecology and 3 beds reserved for fistula patients. There are three delivery rooms and one operating theater available for cesarean deliveries and other gynecological procedures. The facility was upgraded by the MOH to serve as the district hospital and will be renamed the Rwanda Military Hospital. The upgraded facility included a ward of 15 beds and an operating theater exclusively to serve fistula clients. One day each week was reserved for fistula repair surgery and fistula repair and training was also offered during periodic outreach workshops in collaboration with visiting surgeons.
Kibogora Hospital is a rural hospital of 269 beds, located in southwest Rwanda on the shores of Lake Kivu. It serves a population of approximately 250,000 people. Kibogora is also a referral center for 12 neighboring health centers. The hospital provided surgical, general medical, pediatric, maternity and neonatal services, with an extremely busy outpatient department. Fistula Care trained a surgeon and his team to provide fistula services at this site. In addition, the project collaborated with UNFPA to provide fistula repair during an outreach workshop.
Ruhengeri Hospital is located in the North Province near Lake Bulera and the national volcano park renowned for its population of gorillas. Fistula patients came to Ruhengeri from all corners of Rwanda, and some arrived from the Democratic Republic of Congo's eastern provinces. Ruhengeri dates back to the opening of a dispensary in 1964. Today, it has 409 beds, including a 100-bed maternity ward, and serves a population of more than 350,000. Surgical repair and training in repair for fistula was primarily available at Ruhengeri during fistula workshops led by visiting surgeons. Routine services were available for simple repairs. The facility renovated a pre-post op ward for fistula patients with support from Fistula Care.
Gahnini, Kabgayi and Nyamata hospitals were designated by the MOH to serve as fistula treatment and prevention sites. Under the MOH's plan, these sites provided fistula services primarily through outreach services from local surgeons. Fistula Care provided equipment and supplies for these facilities to support the fistula services at these sites.