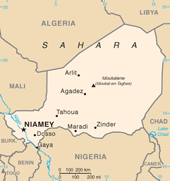 EngenderHealth began support for fistula services in West Africa with implementation of a Bill and Melinda Gates Foundation grant in Niger in 2005. USAID-supported fistula services in the region began in 2007 through the Action for West Africa Region Reproductive Health and Child Survival project (AWARE-RH) and Fistula Care project and continued through FC+ until February 2021.
Fistula is a devastating morbidity, with profound social consequences for those
affected. Through funding from the USAID West Africa Region Program, FC+
collaborated with partners in Niger, Togo, and the broader West African region
to strengthen the enabling environment for the elimination of fistula through
facilitating policy dialogues, building clinical capacity for routine fistula repairs, creating awareness to prevent fistula through community outreach and education, and supporting voluntary family planning (FP). FC+ collaborated with regional institutions, including the Economic Community of West African States (ECOWAS), the West African College of Surgeons (WACS), the West African Health Organization (WAHO), the West and Central African Group for Eradication of Fistula (WCAGEOF), and the United Nations Population Fund (UNFPA) West and Central Africa Regional Office. In Niger, FC+'s primary partner was the Reseau pour l'Eradication de la Fistule (Fistula Eradication Network), known locally as REF. REF, which was jointly established by the Nigerien Ministry of Health and the Ministry for Women and Children's Protection, includes representatives from civil society and brings technical support and human resources in the prevention, management, and socioeconomic reintegration of women suffering from fistula. The project also partnered with SongES Niger, a local nongovernmental organization (NGO), working at the grassroots level to support community awareness activities. In Togo, FC+ partnered with the Togolese Ministry of Health and UNFPA to identify program priorities and to support provision of fistula repairs and training of clinical staff through regional collaboration
At a Glance: FC+ Niger and Togo
• 1,258 surgical fistula repairs completed; 84% closed at discharge
• 4 fistula surgeons and 374 other healthcare workers trained in fistula prevention and treatment
• 5,405 family planning (FP) counseling sessions and 16,661 couple-years of protection delivered at project-supported health facilities
• 1,756 community volunteers trained; 563,901 individuals reached through in-person community outreach
West Africa/ Niger and Togo Resources
Regional Workforce Development Plan for the ECOWAS Sub-Region (English PDF, French PDF). Prof Oladosu Ojengbede, University of Ibadan, 2021. Workforce development requires urgent attention if the goal of elimination of genital fistula is to be achieved. FC+ commissioned the West African College of Surgeons (WACS) to conduct a review of available manpower and other resources dedicated to obstetric fistula in West Africa. The results demonstrated that there are insufficient trained staff and facilities to manage the existing backlog of fistula in the region. It is imperative to invest in the development and mentoring of the next generation of health workers who will take the lead in the region. This document suggests a template for the development and training of health workers to focus on the management of fistula in ECOWAS member countries. The document highlights essential elements of a workforce development plan that must be designed and implemented at the national level to meet national needs, supported by regional cooperation and collaboration to share strategies, lessons learned and expertise in fistula management.
Report of Mapping of Fistula Facilities, Skills, and Services in West Africa (English PDF, French PDF). FC+ engaged the West African College of Surgeons (WACS) to develop a Costed Workforce Development Plan to support capacity building towards ending obstetric fistula in the ECOWAS Region. To this end, a mapping of current status of fistula activities in the region was necessary to determine the scope and coverage.
Five Years of Fistula Care Plus: Looking Back at Key Achievements and the Way Forward to End Fistula (English and French PDF, 2476 KB) EngenderHealth. Fistula Care Plus (FC+) is a global project initiated in 2013 by the US Agency for International Development (USAID) and implemented by EngenderHealth. FC+ builds on and enhances the work undertaken by USAID's previous Fistula Care project (2007–2013), also led by EngenderHealth. Achievements from the first five years of project implementation (December 2013–December 2018) in Bangladesh, DRC, Mozambique, Niger, Nigeria, Togo, and Uganda are summarized in this brief.
What to measure and why? Experience developing monitoring indicators for an emerging maternal health issue: the case of obstetric fistula. Journal of Health Informatics in Developing Countries, 2015.
Carrie Ngongo, Evelyn Landry, Karen Levin, Simon Ndizeye, Iretioluwa Sutton, and Vandana Tripathi recounts the process of developing, refining, and using standardized monitoring indicators as part of a fistula prevention and repair project in fourteen countries—Bangladesh, Benin, Democratic Republic of the Congo, Ethiopia, Ghana, Guinea, Liberia, Mali, Niger, Nigeria, Rwanda, Sierra Leone, Togo, and Uganda.
Assessing the quality of record keeping for cesarean deliveries: results from a multicenter retrospective record review in five low-income countries. BMC Pregnancy and Childbirth. 2014, 14:139
Evelyn Landry, Celia Pett, Renee Fiorentino, Joseph Ruminjo, and Cristina Mattison reviewed a sample of year 2008 cesarean section (CS) records from nine facilities in Bangladesh, Guinea, Mali, Niger, and Uganda.
For more learnings from Niger and other FC+ countries, visit our Resources section.