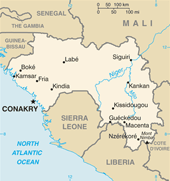 *Services in Guinea were supported under the previous Fistula Care project (2007-2013). Visit the Countries page to learn about countries currently supported under the new Fistula Care Plus project.
Guinea is a francophone country in West Africa. In 2010, the country held its first democratic election since its independence in 1958. Despite great mineral wealth, Guineans are among the world's poorest. Access to quality obstetric care remains low, such that each Guinean woman in her lifetime has a one in 30 risk of death from maternal causes according to UN estimates.
USAID-supported fistula services in Guinea began in January 2006. Fistula Care Guinea worked with nine public hospitals to provide fistula treatment and prevention services.
Treatment Sites:
Prevention Sites:
Boké Regional Hospital
Faranah Regional Hospital
Kindia Regional Hospital
Mamou Regional Hospital
N'Zérékoré Regional Hospital
Fistula Care worked closely with the Guinean Ministry of Health, the Ministry of National Solidarity and Promotion of Women's and Children's Affairs, and the Ministry of Decentralization and Local Development.
Program Results: 2006 – 2013
A total of 2,779 fistula repair surgeries supported.
In partnership with the Geneva Foundation for Medical Research, 55 doctors were trained in surgical repair. A total of 16 surgeons were trained in surgical repair from the Fistula Care supported sites.
Over 870 nurses and midwives were trained in fistula case management and counseling, family planning, obstetric care, quality improvement, and male engagement.
157 community volunteers were trained to conduct outreach within their communities on early marriage, gender-based violence, and danger signs during pregnancy and childbirth.
More than 200 women benefitted from living with host families to facilitate social reintegration.

Supported Sites
Ignace Deen University Teaching Hospital was supported as a prevention site in Conakry. The urology department has historically been the only national referral site for fistula patients. Due to increasingly limited space in the urology and maternity departments, Ignace Deen was unable to continue to provide fistula services and in 2010, Fistula Care supported the facility to transition from a fistula treatment site to a prevention site. Kindia was also a prevention site in this region.
Jean Paul II Hospital is located in Conakry. The facility was well placed to understand the unique needs of fistula patients, as it has long had social workers dedicated to ensuring that indigent and handicapped patients have access to health care. In 2008, Fistula Care expanded the fistula program to the maternity unit of Jean Paul II. The hospital has ample space to serve a great number of women with fistula. Fistula Care Guinea trained doctors and surgical teams and equipped the Jean Paul II to provide fistula repairs. In 2011, in collaboration with American Friends of Guinea (AFG), Fistula Care supported the opening of the Bebe Sylla Welcome Center where fistula patients could stay during the preoperative and long-term postoperative periods.
The Kissidougou District Hospital is a large referral facility located in the city of Kissidougou, in the forest region of Guinea's south. Incursions of rebels from Côte d'Ivoire, Liberia, and Sierra Leone into this region led to an increased incidence of traumatic fistula, in addition to the ongoing burden of obstetric fistula. The hospital is home to one of the few surgeons outside of Conakry who has been repairing simple fistula cases. Prevention sites Faranah and N'Zérékoré are also located in this region.
In May 2009, Fistula Care launched fistula activities at the maternity unit in Labé Regional Hospital in the city of Labé, located in the central Fouta Djallon region of Guinea. The celebration of the program launch coincided with the fourth annual National Fistula Day in Guinea. Fistula Care supported doctors and health providers at the facility to provide fistula treatment and prevention services. In 2010, the mayor's office opened the Karen Beattie Welcome Center to house fistula patients during the preoperative and long-term postoperative period. The prevention site of Mamou is also located in this region.
In addition to the support provided to treatment sites, Fistula Care provided support to improve the quality of maternal health services including partograph use and emergency obstetric care to promote fistula prevention at facilities: Boké, Faranah, Kindia, Mamou, and N'Zérékoré. The project reinforced capacity at these sites to identify and refer fistula clients to repair sites. These sites have also been supported to improve family planning and quality improvement practices such as infection prevention.