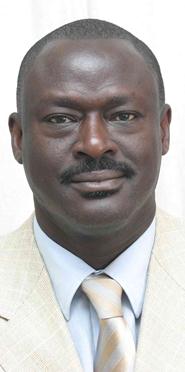 From his early days in medicine, Professor Serigne Magueye Gueye, MD, FWACS, has devoted himself to building international networks of physicians and researchers to address some of the most complex urological conditions, including obstetric fistula.
Prof. Gueye grew up in Thiès, a mid-sized Senegalese city to the east of Dakar. After completing secondary school, he joined the Senegalese military medical corps and studied medicine in Dakar. He excelled in his studies there and went on to pursue specialized training in urology in Paris and Bordeaux. Today, Prof. Gueye resides in Dakar, Senegal, where he is Head of Urology at the Grand Yoff General Hospital and Professor of Urology at the University of Cheikh Anta Diop.
Prof. Gueye's eclectic abilities and interests take him to a variety of places in need of his services and expertise. In 1994, he left Bordeaux to work as a field trauma surgeon for the African Union Forces in Rwanda. There, he cared for soldiers and civilians and used his Kinyarwanda language skills to take patient histories. For his brave and outstanding work there, he received a United Nations Medal for Peace. Prof. Gueye has also influenced health care in multiple countries across the continent of Africa, as an important leader at the African Organisation for Research and Training in Cancer (AORTIC), a nonprofit organization that aims to prevent and control cancer, a growing public health problem on the African continent. He has received numerous national awards and honors for his leadership in medicine, including "Chevalier Ordre National" from Chad, "Officer de l'Ordre National du Lion" from Senegal, and "Ordre National du Mérite" from France.
Indeed, Prof. Gueye's work and research is respected across countries and across fields. Throughout his career, he has conducted research on bladder cancer, urinary tract disorder, urinary fistula, and other tropical urological diseases, as well as on medical education. He is an editor for several major medical journals in urology, sexual health, and surgery; he has also published more than 70 articles in peer-reviewed journals. In 2002, he received a Fulbright scholarship to study prostate cancer at the University of Pennsylvania School of Medicine.
Today, Prof. Gueye strives to train the next generation of committed urologists and shapes a sustainable network of experts working to answer some of the most pressing questions in medicine. He builds partnerships with urology departments in the United States, Europe, and Africa and establishes links with international public health organizations. His department at the University of Cheikh Anta Diop recently became an accredited center in fistula training, and it currently receives fellows from other countries who come to study obstetric fistula treatment. He also acts as a course director and advisor for international students at his university.
In addition to his contributions in urology and trauma surgery, Prof. Gueye is recognized globally as an expert in obstetric fistula. He regularly contributes his expertise to Fistula Care as the program designs and implements programs and research. He is a member of the Data Safety Monitoring Committee for the randomized controlled trial on short-term catheterization following fistula surgery. As a leader in the International Society of Fistula Surgeons (ISOFS), he acted as President of the Organizing Committee for the organization's 2010 conference. Prof. Gueye contributed to the Global Competency-Based Fistula Surgery Training Manual, which he recently presented to surgeons at the Fistula Care Community of Practice meeting in the Democratic Republic of Congo.
Today, leaders in public health and medicine have recognized the urgent need to build a larger body of research in fistula treatment and prevention. Prof. Gueye's lifetime of contributions will influence advancements in fistula work for years to come.