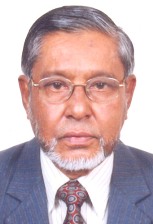 In 1946, when Professor A.K.M. Anowar-ul Azim was just 10 years old, his mother experienced obstructed labor while trying to deliver her fifth child. At the time, Prof. Azim's father, a doctor, worked with another doctor to help her, but they could only provide pain medication and injections. The nearest hospital was 18 miles away by a bumpy road, and the only transport available was a cow-driven cart. After two days in labor, Prof. Azim's mother died at home without delivering. This tragic event motivated Prof. Azim to study gynecology and obstetrics. Today, he is a leader in fistula treatment and prevention in Bangladesh.
In 1963, Prof. Azim trained at Dhaka Medical College and its hospital, where he observed that women with vesico-vaginal fistula were frequent patients in his unit. Under the guidance of Prof. Nurul Islam, he assisted in fistula repair operations. Later, he joined the staff at Mitford Medical College and Hospital (now Sir Salimullah Medical College and Mitford Hospital), where he began to perform surgeries on his own. During his Fellowship examination in 1968, his dissertation focused on the management of fistula. Since then, he has worked as a professor, as a surgeon, and as head of the Department of Gynecology and Obstetrics in different medical colleges in Bangladesh.
Prof. Azim has performed operations on vesico-vaginal and recto-vaginal fistula since 1969. Currently, Prof. Azim works at Ad-Din Hospital, which receives some support from the U.S. Agency for International Development (USAID) via the Fistula Care project to offer fistula treatment free of charge. Typically, Prof. Azim sees one fistula patient daily. He says that the biggest challenge to treating and preventing fistula is poverty: many Bangladeshi women are unable to seek out or travel to treatment centers, due to financial constraints. The vast majority of births are at home, without a skilled birth attendant, putting women at risk for fistula. Many people are unaware of the treatment options available for obstetric fistula. Prof. Azim recently treated a woman who had lived with fistula for 22 years but did not seek out treatment because she did not know it was available.
After decades of work, Prof. Azim has observed the ways in which fistula has an impact not only on fistula patients, but also on their entire families and communities. Once, his hospital called the son of an elderly fistula patient to ask him to pick up his mother, who had received fistula treatment but still was experiencing some incontinence. The son replied, "Please put her up in a bus and tell the conductor that if she dies on the way, put her down by the roadside." Professor Azim observed that the son was "overburdened with his own family and saw his mother suffering from a 'dreadful' condition for years. He was totally helpless and spoke out of frustration." To assist the woman and her family, Ad-din Hospital provided an ambulance to take the woman home.
Prof. Azim says that literature, guidelines, and instructions from the Fistula Care project have helped train new gynecologists to treat and prevent fistula. In addition, Fistula Care has "helped in building up a professional leadership with the government" and has "helped to initiate preventive and patient identification work at the community level." Despite challenges, Prof. Azim and the medical staff at Ad-Din Hospital work diligently to treat fistula and educate the Bangladeshi people about the condition. Hospital workers conduct home visits and refer women experiencing fistula for treatment. Prof. Azim says that his wish is to raise community awareness about fistula prevention and treatment and about the importance of antenatal, perinatal, and postnatal care.