"It is nurses and midwives who will be able to prevent fistula."— Dr. Shershah Syed, Pakistan.
Nurses and midwives are drawn to help women with fistula. Many have experienced childbirth themselves, and almost all have had the experience of seeing women in their own communities suffer complications in childbirth. Women in underserved populations of resource-constrained nations often face insurmountable challenges in accessing maternal health care services. In such settings, it is crucial that national governments recognize the importance and long-term benefits of investing in building the skills of nurses and midwives and in sustaining their professional development. To celebrate the publication of The Prevention and Management of Obstetric Fistula: A Curriculum for Nurses and Midwives, we talked with a number of nurse-midwives who work on obstetric fistula.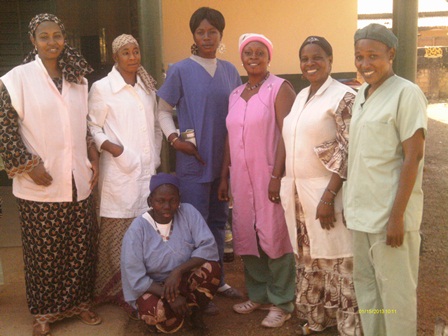 Mariama cire Diallo is a dedicated volunteer nurse at Maternite Central de Kissidougou, a large referral facility located in the city of Kissidougou in Guinea. There she applies her skills in the postoperative care of fistula clients, after having been deeply moved by the anguish of women living with obstetric fistula in her village. Mariama is all too familiar with the obstacles to care in low-resource settings and recognizes the challenges in communicating with women and their partners and families from diverse backgrounds in Guinea. Through nurses' and midwives' efforts to build relationships of trust and empathy with their clients, women are better able to make informed and voluntary decisions about their care.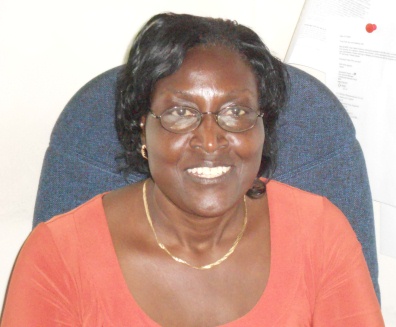 In Uganda, midwife Lucy Asaba (left) began her involvement in fistula work as a National Reproductive Health Trainer by planning and implementing efforts to mentor and coach nurses on use of the partograph. Like Mariama and many nurses and midwives, Lucy believes that the partograph is a key labor management tool and that comprehensive training to educate staff and standardize its use is crucial. It was through this work that she came to see firsthand the effect of fistula on women's lives. Lucy believes that to reduce the suffering caused by fistula, it is necessary "to widely educate all women, girls, and men on the problem of obstetric fistula, its causes in the community, prevention, and factors that may contribute to its formation, and to empower them to make informed decisions and act on those choices." This means engaging with and counseling women during pre- and postrepair periods, a crucial activity that is often neglected in many health care settings. "I knew I had a role to play to prevent more women from getting fistula" says Lucy, who now works as a Program Associate at EngenderHealth in Uganda, continuing to pursue this commitment to improving women's lives. The Nursing Curriculum includes a module that addresses the correct use of the partograph, as well as guidance on counseling. Lucy is confident that the Nursing Curriculum will have a great deal to offer, particularly as it was published just after the launch of Uganda's National Obstetric Fistula Strategy in September 2012 and as the Ministry of Education is in the process of revising its midwifery curriculum.
Nurses and midwives globally are "advocates, educators, and care providers," says Celia Pett. They not only represent an opportunity to help women access the medical attention they deserve, but also act as champions for the reproductive rights of women and girls everywhere. As a newly qualified midwife in the United Kingdom, Celia was shocked to learn about obstetric fistula through the work of Hamlin Hospital in Ethiopia. She has always regarded fistula as the gravest "injustice and discrimination to women." With long work experience in maternal health in Africa and South Asia, she is now a Medical Associate for Fistula Care, guiding and supporting the project's work on prevention. Celia explains how critical it is to develop a skilled workforce of nurses and midwives: The services they provide span the "continuum of care across a woman's sexual and reproductive life."
Betty Farrell, Senior Technical Advisor for Service Integration at EngenderHealth, is another midwife with many years' experience developing and working on reproductive health projects in Malawi, Nigeria, Uganda, and elsewhere. She is inspired by the way these projects transform the lives of women and girls. Betty and Sheillah Matinhure, Senior Program Officer of Eastern, Central and Southern Africa Health College of Nursing (ECSA-CON), collaborated with other experts from the region in the development of the Nursing Curriculum, to help nurses and midwives better understand and respond to the needs of women with fistula. The Nursing Curriculum not only will help nurses provide the highest quality of care, but will also allow them to "alleviate provider attitudes and biases that create additional barriers to women and their partners," something that Betty and other nurses worldwide have encountered as obstacles both within and outside the hospital.
Nurses and midwives are powerful advocates for leveraging community awareness of family planning methods and accessing services to help women have the number and spacing of children they want, not the number and spacing their circumstances dictate, and to do so safely. They serve as a bridge between health centers and the communities they serve.
Women living with obstetric fistula have faced tragedy and often have endured long struggles. The need for a strong network of compassionate support—support built on a foundation of skilled knowledge and awareness of women's reproductive health and rights—is at the heart of the nurses and midwives championing fistula treatment and management. Through their training and expertise, nurses and midwives play a key role in restoring the dignity of women who have had or who are still suffering from obstetric fistula.
With this message, we would like to acknowledge and extend a heartfelt thanks to all of the nurses, midwives, and nursing assistants who labor every day to ensure that women's experience of pregnancy and childbirth—as well as sometimes the unfortunate complications that accompany these—will be managed with care, dignity, and respect.