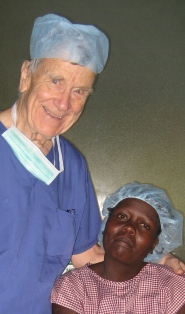 In 1967, Dr. John Kelly of Birmingham, England, traveled to a hospital in rural Nigeria, where he first performed fistula surgery. After that trip, he developed an unwavering commitment to fistula treatment and prevention. Since then, he has provided care to more than 9,000 women, and he has had a tremendous impact on countless others through his role as a trainer in fistula surgery.
Dr. Kelly first went to Ethiopia as a fistula surgeon in 1970, when Drs. Reginald and Catherine Hamlin asked for his assistance. From 1970 until 2000, he worked full-time as an obstetrician-gynecologist in Birmingham, but he used at least three weeks of his vacation time every year to travel to Ethiopia. Dr. Kelly set aside funds received from private patients in the United Kingdom to support his work, and his family provided unwavering support.
In 1985, he went to Somalia, returning annually for the following six years. He has made numerous trips to Uganda, frequently extending his trips from two to four weeks to ensure that all patients who presented for treatment during his stay could receive it. During these visits Dr. Kelly has also trained other physicians. After retiring from his practice in England, he began to spend nine months of the year providing fistula surgery. He continues to travel, and has worked in Sudan, Pakistan, Afghanistan, Angola, Bangladesh, Eritrea, Ethiopia, Ghana, Kenya, Malawi, and Zambia.
Dr. Kelly has also made an impact by training other health care providers. He has trained 16 former patients from Darfur to be midwives. In 2005, he began training surgeons in a program sponsored by EngenderHealth in Uganda. Dr. Kelly emphasizes that it is not just the surgeons who repair fistula—every member of the team (including hospital staff, community members and donors) plays an equal part.
Dr. Kelly is passionate about fistula prevention. During his years in Ethiopia, he worked at Attat Hospital, a rural health facility about 4–5 hours from Addis Ababa. There, his work focused on providing women with safe deliveries, a key practice for fistula prevention. He explains, "some people may say you'll never prevent [fistula]. But we must prevent it!  It's the only complete cure we have."
After years of service, Dr. Kelly is still enthusiastic about fistula treatment. He encourages others to increase the body of knowledge about fistula treatment and prevention, explaining, "We owe it to these women to get the most robust evidence to support policies." Dr. Kelly is undoubtedly a key leader in the field of fistula treatment, and his contribution has been immeasurable.