Dr. Dolorès Nembunzu is an obstetrician-gynecologist and fistula surgeon at St Joseph's Hospital in Kinshasa, Democratic Republic of Congo (DRC). To her clients, she is better known as maman (mother), demonstrative of the warmth and empathy she brings to her role as a doctor and an advocate for women living with obstetric fistula.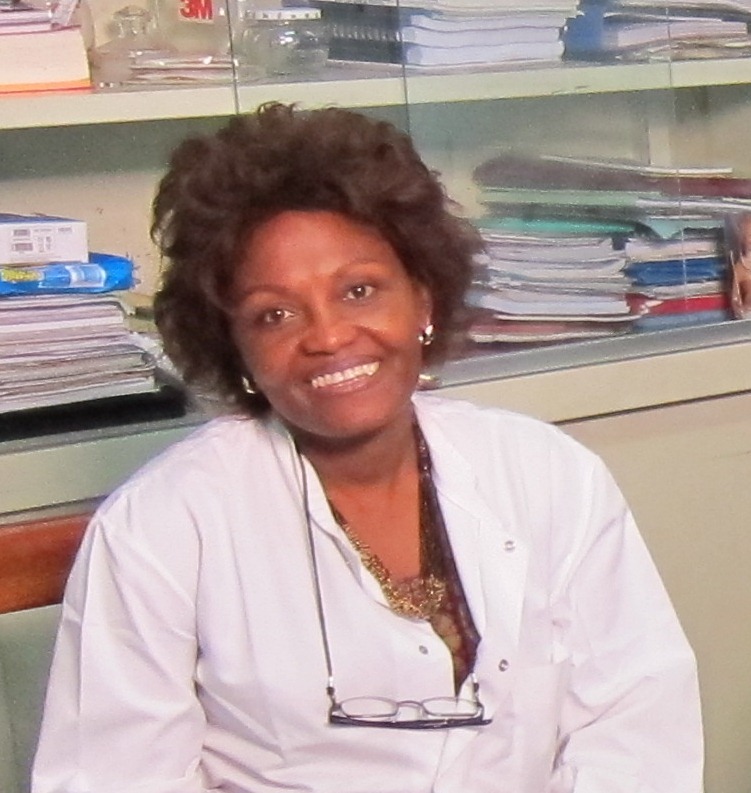 The DRC is home to a multitude of natural resources and mineral wealth, but little of that wealth has been allocated to support poorly resourced social and health services in most areas of the country. The country is challenged by its vast size, poor road and communication networks, and ongoing conflict in the Eastern Congo. Eighty percent of the DRC's 67.8 million people live on less than US $2 per day, and among the poorest one-fifth of the population, only 60% of births are attended by a skilled attendant. Congolese women face a one in 13 chance of dying from maternal health-related complications.
Dr. Nembunzu was born in Butembo, in eastern DRC, and is the youngest of seven children. She was named after a Spanish doctor, Dolores, who assisted her mother with the particularly difficult birth of her elder sister. After completing her medical studies at the University of Algeria and subsequently studying tropical medicine at the Institute of Tropical Medicine in Antwerp, Belgium, she returned to DRC in 1988 to work as an ob-gyn. Her first post was at the Hopital de la Visitation in Rungu, a city in Province Orientale in northeast DRC. Her experiences there inspired her to focus on helping the underserved in her home country.
Some years later, she came across a thesis concluding fistula to be "difficult, dirty, and not to be touched." This left Dr. Nembunzu both unsettled and curious about the plight of women with fistula. In 2003, to her delight, she encountered a Belgian surgeon who was successfully repairing fistula in the DRC. Six months later, in October 2003, he returned to DRC and her training in fistula repair began. For two years, they worked together closely and tirelessly. After a 2005 training course in Addis Ababa, Ethiopia, Dr. Nembunzu was ready to help her first countrywoman with this condition.
"I will never forget the extraordinary joy on her face when she woke up and realized the bed was dry," Dr. Nembunzu said, as she fondly recalled her very first fistula client. To this day, "maman's" approach in her work has been to engage with her clients in a very personal way. She gets to know them very well, their personal aspirations, their families, and their eventful journey to reach St. Joseph's Hospital-a journey that ultimately changes each client's life. This personal touch is the catalyst for the healing to come with surgery.
In the same year, Dr. Nembunzu carefully recruited an operating room nurse, Paulin, to form part of her fistula team. "I could not do my work without him, we have grown together, discovered fistula together. When we are in surgery, there is often no need for words, through eyes alone we can communicate." Dr. Nembunzu has a unique personality that includes both magnetism and leadership, and the special relationship she has built with Nurse Paulin based on mutual respect, loyalty, and understanding is testament to this. Another key force in Dr. Nembunzu's work is her own family: "I am so grateful for the emotional support of my husband and three daughters, who are always there to listen to my stories, my emotions; I could not do it without them either," Dr. Nembunzu concludes.
Like many working to address maternal morbidities, her hope for fistula is that it disappears. She dreams of quality maternal health care available to all and services that reach the many remote populations in DRC. Dr. Nembunzu's professional ambition is to become involved in education and pass on the skills she feels so lucky to have acquired to new cadres of ob-gyns in the DRC.