On Monday, May 14, more than 5,000 world leaders, activists, researchers, private-sector representatives, and other global stakeholders will arrive in Copenhagen, Denmark, for the 4th Women Deliver conference. Women Deliver 2016 is set to be the largest conference on the health, rights, and well-being of girls in the last decade. The focus of this year's conference—how to implement the Sustainable Development Goals (SDGs) so that they matter most for girls and women—comes at a critical time in the field of global health and international development. As we move from the era of the Millennium Development Goals to the nascent SDGs, the international community must gather to share lessons learned and reimagine the path to achieving these goals by 2030.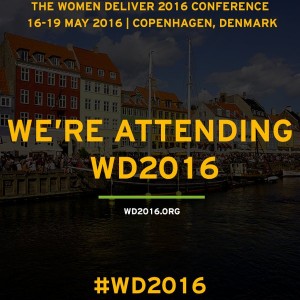 Fistula Care Plus and EngenderHealth are excited to announce that we will be hosting three events during the week of Women Deliver:
"The Forgotten Challenge: Maternal and Newborn Morbidity" This concurrent session will take place on Wednesday, May 18, from 3-4 pm in Room B3-1 of the Bella Center. The multifaceted discussion will focus on what health systems must deliver to reduce maternal and newborn morbidity, including a discussion of effective management of prolonged/obstructed labor, personal reflections from a young Bangladeshi midwife, an examination of linkages between country of birth and morbidity, and lessons learned in a busy urban hospital in West Africa.
"Safe Surgery: A Non-Negotiable for Women's Health, Equity, and Wellbeing?" In this breakfast event, taking place on Thursday, May 19, from 7-8 am in Room B4-5 of the Bella Center, an engaging dialogue will feature Dr. Denis Mukwege of Panzi Hospital (recently named one of TIME's 100 Most Influential People), Dr. Bisola Onajin-Obembe of the Nigerian Society of Anaesthetists, Dr. Luc de Bernis (formerly of UNFPA), and our own Dr. Lauri Romanzi as they explore the intersection of safe surgical care and women's well-being, economic productivity, and equality.
"Change Makers and Game Changers: Reimagining the Road to 2030" An evening reception hosted by EngenderHealth on Tuesday, May 17, from 6-9 pm in Room B0-2 of the Bella Center will introduce the first in EngenderHealth's "Role Models for Change" series. Pioneers of digital platforms and crowdsourcing solutions will share ideas for how to work smarter, not harder. We will also hear stories and experiences from change makers, including EngenderHealth's very own Dr. Yetnayet Asfaw, Vice President of Strategy & Impact.
EngenderHealth has recently gained our own role model for change in the form of new President and CEO, Ulla E Müller. As a lifelong advocate for the rights of women and girls, Ms. Müller is a thought leader in human rights, poverty alleviation, and women's sexual and reproductive health. Prior to joining EngenderHealth, Ulla lived and worked across Africa for more than 20 years and held senior-level positions at bilateral, multilateral, and civil society organizations, most recently leading the Southern Africa Region for Marie Stopes International (MSI).
Fistula Care Plus warmly welcomes Ulla and will surely thrive under her inspired leadership. Ulla will be attending Women Deliver and will host the Change Makers and Game Changers reception on Tuesday evening. If you are unable to attend the conference in person, register online for #WDLive to join remotely. We will also share highlights throughout the week on our Twitter account—follow @fistulacare or use the hashtag #WD2016.
See you in Copenhagen!