By Ibrahim Haruna, Community Mobilization Associate at EngenderHealth Nigeria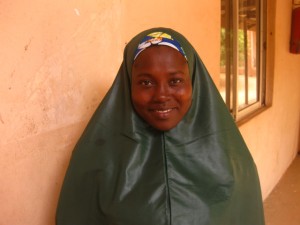 "After a week of recovery at the hospital, I stood up from the bed, tried to move around, and then I realized I was wet and I could not understand what it was. Realized that I was leaking urine, I started crying, I cried all day and night and from that moment, my life changed completely because I could no longer associate with people, some even laughed at me and I felt rejected."
Kebbi State, Nigeria– Like millions of women around the world, Maryam started leaking urine after a prolonged obstructed labor, a condition that resulted in obstetric fistula. Fistula is a devastating occurrence that affects over twelve thousand women yearly in Nigeria. Some of these women are successfully repaired by a surgeon's first attempt; many others, like Maryam, try for many years before their injury can be healed.
Maryam is 22 years old and lives in a community called Bunza in Kebbi State, located in far north western Nigeria. Maryam was married at the age of 13 and had two healthy children through cesarean section. Two months into her third pregnancy, Maryam and her husband agreed to enroll in ante-natal care at a general hospital.
At exactly nine months of pregnancy, Maryam went into labor early in the morning. A community health worker was called to assist with the delivery, but after about 8 hours of labor, Maryam and her mother sought help at a general hospital some 120 kilometers away. At the hospital, Maryam labored for hours while waiting to receive a blood transfusion and cesarean section. Sixteen hours later, she received a cesarean section but the labor from her prolonged labor was done- her child did not survive, and she was left with a fistula. Maryam complained to a nurse who assured her that everything was going to be all right. A catheter was later inserted for Maryam; she was advised to drink enough water as she was discharged home.
After nine days at home, Maryam went back to the hospital where she delivered in search for treatment. She met a doctor who referred her to a fistula treatment center.
Recounting her ordeal, Maryam said "I hurried to the Gesse VVF Center in Birnin Kebbi and on getting there, I saw many other women with similar condition; we became friends and I was a bit relieved".
Maryam's hope of finding a solution was dashed when her doctor's first attempts at surgical repairs were not successful. Her fistula was complex, and there was a chance that further surgeries would not be able to repair the trauma her body had suffered. She became worried that she would never be able to retain her urine again or return home to her husband and her normal life. However, she and her team of providers decided to try one more time.
In December 2014, Maryam attempted another repair at the same fistula center. To her great surprise, she became completely closed and dry after two weeks of post-operative care. Since then, her years of sadness turned to endless joy.
"I cannot explain how I felt when I noticed I was dry of urine, I was full of joy and from that moment I have remained happy and thankful to God and the people that helped me," explained Maryam with a big smile on her face.
Maryam now lives with her husband again and hopes to establish a small business in order to earn a livelihood. She advised other women to attend antenatal care and deliver at the hospital with a skilled birth attendant in order to avoid the pain and discrimination she went through as a consequence of fistula.
Through the  USAID funded Fistula Care Plus project, EngenderHealth provides support to Gesse VVF Center in Kebbi state and other hospitals in Nigeria by training doctors and nurses, supply of consumables for surgeries, improved data collection tools, supply of equipment and instruments, and research for improved service delivery.
Ibrahim Haruna is the Community Mobilization Associate with the Fistula Care Plus project in Nigeria. He has 4 years of experience in development programs with previous experience in girl child education, safe spaces, advocacy and policy support. Ibrahim support program implementation in the FC Plus project with major focus on communication and liaison, advocacy, report writing and planning and coordination of program activities. He holds a postgraduate diploma in Public Relations and advertising from the International Institute of Journalism and a Higher National Diploma in Mass Communication.