Simon Ndizeye, Monitoring & Evaluation Program Associate, FC+ Uganda
When assessing the contribution of fistula teams in providing prevention and treatment services at hospitals, there is a tendency to only focus on those involved in direct service delivery. Fistula surgeons, nurses, counselors, and theatre staff among others are integral, yet there are other support staff involved in aspects of finance, procurement, logistics, transport and client welfare that play a critical role in restoring the dignity of women afflicted by obstetric fistula.
Francis Kironde is one of those support staff who is very passionate about the work he does. For the last 24 years, he has been transporting women with obstetric fistula from distant locations to Kitovu Mission Hospital for access to free treatment services. Francis did not set out to be a driver; as a young boy his dream was to become a doctor. However, that dream was shattered in 1991 when his parents were unable to continue paying his school fees. A year later, he applied for and started working as a driver at Kitovu Mission Hospital in Masaka, Uganda.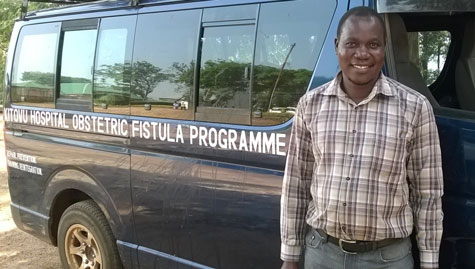 Francis estimates to have transported over 2,000 women seeking access to fistula treatment services at the facility. He says that the farthest location he has driven to pick up women with fistula is Gulu in Northern Uganda, which is 458 kms away. Francis says that before starting work at the hospital, he had never heard about obstetric fistula or seen a woman with the condition. In his first year of work, one of the visiting surgeons oriented him about the causes of fistula, prevention measures, and treatment opportunities which helped him to appreciate the plight of women living with fistula. He says that in spite of the foul smell of urine that normally engulfs him as he is transporting such women, he doesn't stigmatize them.
"Every time I am transporting these women, I try as much as possible to show them that I am not uncomfortable with the smell of urine because I know it is not their fault….."
When asked what he most likes about his job, he says that he derives deep satisfaction from seeing women who had lost hope smile and jubilate after fistula treatment. He goes on to say that when transporting the women to Kitovu for treatment, there is normally a somber mood in the vehicle. Everything changes during the return journey to their homes.
"While transporting these women back to their communities after treatment, they are all smiles, full of life and on some occasions they sing and jubilate all the way to their homes." 
Francis also normally transports health workers to different places during community sensitization campaigns on obstetric fistula and other maternal health issues. Drawing on his experience, knowledge, and passion for women's health, he also participates in sensitizing fellow men about the need to support their partners to access a wide range of maternal health services. He says that working with Kitovu Mission Hospital has also helped him to appreciate his wife more and become fully involved in raising their four children.
Simon Ndizeye is the Monitoring & Evaluation Program Associate with the Fistula Care Plus project in Uganda. He has 11 years of experience in research, monitoring and evaluation of HIV/AIDS, reproductive health, family planning, and maternal, newborn and child health programs with a major focus on service delivery and behavior change communication in Sub Saharan Africa. Simon holds a postgraduate diploma in monitoing and evaluation from Uganda Management Institute and a master`s degree in population and reproductive health from Makerere University.