Narrated by Academy Award winning actress Meryl Streep and directed by award-winning filmmakers Adam Freidman and Iain Kennedy, SHOUT GLADI GLADI, follows the quest of Ann Gloag, the indefatigable philanthropist and former nurse driving the movement to save women and girls from obstetric fistula. The condition, caused by prolonged, obstructed childbirth, has been a pandemic for so long that women as old as 70 have lived with it for 40 years before receiving treatment. The film features these women and girls as they tell stirring tales of their struggles and triumphs. Everything culminates with the exuberant Gladi Gladi ceremony, a singing and dancing blowout that marks the day the women and girls return home cured.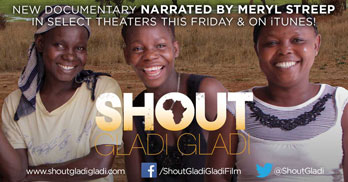 The film is also about opportunities to empower women in impoverished communities by following the story of the BBOXX, a compact solar-powered electricity generator. Armed with these devices, after their treatment the women return to their villages where they earn money for charging phones. Not only are the BBOXXes providing clean and renewable energy to hundreds of thousands of people living in remote rural areas, they are changing these women's lives economically.
This is a film about hope, resilience, maternal health, philanthropy and empowerment.
Other voices in the film include, Melinda Gates, co-founder of the Bill & Melinda Gates Foundation; Nigerian Nobel Prize winner for literature, Wole Soyinka; Hawa Hawatouri, founder of the Haikal Institute in Sierra Leone; and Dr. Jeffrey Wilkinson, the Senior Surgical Consultant of the Freedom From Fistula Foundation.
SHOUT GLADI GLADI will educate and build awareness around obstetric fistula and the effective work being done to eradicate it. SHOUT GLADI GLADI is ultimately as uplifting and optimistic as these very special women are; it's an invitation to join hands and shout Gladi Gladi along with them.
Together with a coalition of partners – including nonprofits, African centered health and medical relief organizations, women's groups and NGO's – we will maximize SHOUT GLADI GLADI'S reach to audiences in New York, Washington D.C., Los Angeles and San Francisco. Partners will share content and recruit audiences to the theaters to raise awareness around this critical issue.