ABUJA, NIGERIA – August 13, 2015 
The USAID funded Fistula Care Plus Project, managed by EngenderHealth, announces and supports the premier of the movie DRY – a movie on obstetric fistula, otherwise called Vesico Vaginal Fistula (VVF). The film premiers in Abuja on August 13, 2015. The movie is a collaborative effort of celebrated Nollywood actress Stephanie Linus and Fistula Care Plus.
Dr. Habib Sadauki, Country Project Manager for Fistula Care Plus, said this movie will help with the overall advocacy for the prevention of obstructed labor and obstetric fistula in Nigeria.  He said it will also foster the desired partnership between government at all levels, Federal and State Ministries of Health and that of Women Affairs, development agencies, communities, families, health professionals to strategize and ultimately improve access to emergency obstetric care, obstetric fistula prevention, and treatment services in the country.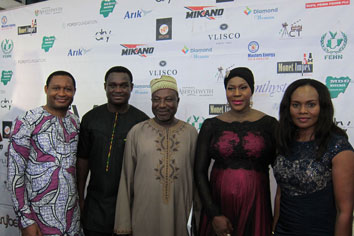 Quote from Stephanie Linus, Producer of the movie DRY
"To finally have a chance to share something so dear to my heart with my people is humbling. Watching and receiving the feedback of raw emotions reminds me of why this film is important and why my organization Extended Hands Foundation has so much work to do and now with this film, we can have the welcome support of moviegoers. It is a movement to change the lives of many young women who suffer from VVF."
Film Synopsis
DRY encapsulates the life of Zara, a successful African doctor living in Wales is determined to stay away from her childhood memories and this now threatens her commitment to marry Alex, a gentleman she truly loves.  Her mother, a missionary to Africa, has been unable to get Zara to go with her for her yearly medical aid trips to Africa. When her mother falls ill and unable to make a crucial trip and Zara discovers there is a strong possibility her long lost daughter might still be alive in Africa, she is steered in a new direction to face and conquer her darkest fears. Her trip to Africa becomes inevitable.
Back in Africa, thirteen- year old Halima's poor parents make her marry Sani, a 60-year-old man.  With no idea of sex or its intricacies, she goes through a dreadful ordeal as her new husband repeatedly rapes her. Pregnant and after the delivery of her child, young Halima suffers a condition known as obstetric fistula. A health nightmare suffered by over 800,000 other women just like her, she is ostracize and abandoned by her husband, family and community. It is a period of rejection, isolation, and despair for Halima.
The movie follows a trail of Zara's trip to Africa, her constant turmoil as a result of inexplicable horrors from her childhood, her experiences and heartaches while working with these suffering women against the backdrop of a rich African culture. Finally, Zara meets Halima and marvels at the revelation of the tie that binds them together. It is full of intrigues, suspense, unbelievable surprises and the joy of reconciliation and the power of the human spirit that is guaranteed to put a smile on people's face.
Stakeholders in the health sector especially those working directly on fistula are all expected at the premier to take place at Silverbird Cinema Abuja at 6:00pm.  Among those expected are representatives of USAID, EngenderHealth, UNFPA, Federal Ministry of Health, Federal Ministry of Women Affairs and Social Development, SOGON, the media and a host of other dignitaries.
DRY promises to be a compelling watch for all.
Leadership of Fistula Care Plus Project
Fistula Care Plus Nigeria is led by Dr. Habib Sadauki, a Nigerian senior obstetrician/gynecologist, a Fellow of the West African College of Surgeons, and a Fellow of the Royal College of Obstetricians and Gynecologists in the U.K.  Dr. Sadauki says, "We are at a critical time in Nigeria where we can make even greater impact so that more women living with fistula can be treated.  We also must help prevent fistula from happening in the first place".
To learn more about the Fistula Care Plus project or obstetric fistula in Nigeria, please visit our website, www.fistulacare.org, or follow our Twitter account @fistulacare.
Dr. Habib Sadauki, Country Project Manager (08035875576; 08070951286) Email: hsadauki@engenderhealth.org
Media contacts: Eberechukwu Diokpo (08034500765); Email: eokeke@engenderhealth.org