On July 29-31, over 300 delegates from development partners and Ministries of Health throughout the Economic Community of West Africa States (ECOWAS) region met in Ouagadougou, Burkina Faso for the first WAHO Good Practices Forum. Nine representatives from Fistula Care Plus were among the attendees, representing FC+ West Africa/Niger, FC+ Nigeria, and our global technical team. The Good Practices Forum was supported by USAID, KFW, and WHO/IBP and included technical and plenary sessions exploring various aspects good practices in health including scale up, sustainability, and good governance. According to Dr. Xavier Crispin, WAHO Director General, it is important to identify best practices and ensure dissemination so that countries in the ECOWAS region can adopt them to improve the overall health of populations.
FC+ contributions focused on our regional experience with community engagement, maternal health, fistula repair, and family planning integration. Fistula Care Plus presentations were as follows:
Oral Presentations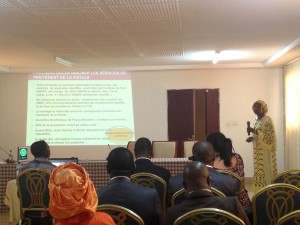 An innovative project integrating intimate partner violence screening and counseling into a family planning clinic in Conakry, Guinea. Fabio Verani, EngenderHealth Gender Technical Advisor (presented by Alexandre Delamou)
Decentralization and Scale-Up of Fistula Services from 2002 onward in Niger. Dr. Fatimata Moussa, EngenderHealth Niger Program Manager
 Sustainable innovation in monitoring for health projects – DHIS2 and the Fistula Care Plus project. Dr. Chidimma Anyanwu, FC+ Nigeria M&E Advisor
Integrating Family Planning with Obstetric Fistula Services: Achieving Reproductive Intentions. Bethany Cole, Global Projects Manager
Management of Women Deemed Incurable in Nigeria. Dr. Suleiman Zakariya, FC+ Nigeria Clinical Associate
Maximizing service coverage: the pooled effort strategy for obstetric fistula repair in Nigeria. Dr. Adamu Isah, FC+ Nigeria Deputy Director
Programmatic implementation of RCT on Short Duration Bladder Catheterization After Female Genital Fistula Repair: Preliminary Experiences from Niger/Nigeria/Sierra Leone, Dr. Joseph Ruminjo, Clinical Director
REF Partnership in Niger from 2003 Onward. FC+ Niger Representative
Posters
Draft Guidelines for Catheterization as Conservative Treatment in Nigeria. Dr. Adamu Isah, FC+ Nigeria Deputy Director
Rights and Choice Framework. Bethany Cole, Global Projects Manager
Village Safe Motherhood Committees in Guinea. Bethany Cole, Global Projects Manager
In addition to the listed presenters, Fistula Care Plus was proud to have our Project Director Dr. Lauri Romanzi present at the conference. All presentations are available on the WAHO website along with pictures and daily overviews of the conference in English, French, and Portuguese.