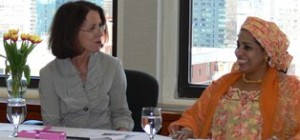 On Friday, May 18, 2012, the EngenderHealth office in New York was honored to receive a visit from the First Lady of the Republic of Niger, Her Excellency Dr. Malika Issoufou Mahamadou, wife of President Mahamadou Issoufou. Dr. Malika Issoufou Mahamadou was accompanied by seven people in her visit, including Dr. Maikibi Kadidiatou, Minister of Population, Promotion of Women and Child Protection, and Madame Bety Aichatou, Presidential Advisor on Gender.
Dr. Malika Issoufou Mahamadou has a background in tropical medicine and has shown a strong interest in public health and the prevention of domestic violence since she became First Lady in 2011. She is often called the "marraine" or "godmother" of fistula services in Niger, and she is supportive of the work of a Fistula Care subgrantee and partner, Réseau pour l'Eradication des Fistules (REF).
EngenderHealth President Pamela Barnes greeted Dr. Malika Issoufou Mahamadou and presented her with a certificate of recognition for her dedication to women's health. The First Lady thanked EngenderHealth and staff from the Fistula Care project for their efforts in Niger. She commented on the success and importance of REF's work to improving maternal health in her country.
The First Lady's visit provided an opportunity for President Barnes and Fistula Care staff to discuss the status of maternal health in Niger and the particular challenges that need to be addressed. The Fistula Care team briefed the First Lady about their programmatic work in Niger to prevent and treat fistula. Fistula Care informed the First Lady about the findings from a recent study on cesarean delivery, which shows that hospital staff in Niger report a need for classification systems for recording indications for cesarean delivery. Staff also discussed the launch of new tools designed to enable low-literate community committees to monitor maternal health care–seeking and an ongoing randomized controlled trial on short-term catheterization.
Her Excellency and her advisors asked several questions about research initiatives and expressed interest in community-level prevention activities. They commended the project and EngenderHealth for these efforts and also emphasized the importance of engaging men in maternal health and fistula prevention.
Project Director Karen Beattie thanked the First Lady for her visit and her ongoing support for Fistula Care work. Ms. Beattie explained that the Fistula Care project is currently funded through September 2013 but expressed hope that EngenderHealth and the Nigerien State could continue collaboration into the future to improve health services for women, men, and children.