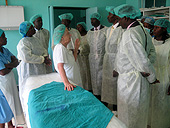 The Honorable James Kakooza, Minister of Health of Uganda, and Dr. Amandua Jacinto, the Commissioner of Clinical Services, recently traveled 130 km from Uganda's capital to visit the Kitovu Mission Hospital and take a close look at the facility's fistula repair services. Most women who come to this hospital work in rural agriculture and have little money to spend on health care.
Dr. Maura Lynch, a fistula surgeon who has long served at the hospital, briefed the two officials about fistula repair as they toured the facility. Minister Kakooza and Commissioner Dr. Amandua donned medical caps and white gowns over their suits to visit the operating theater where so many women receive life-transforming surgery.
Most often, fistula clients in Kitovu are women who lack access to political power and material resources. Some of them have been shunned by their communities. On this day, however, an influential government official took time to listen to them. Indeed, Minister Kakooza visited with healing fistula patients, learned about their experiences, and heard some of their success stories.
Fistula Care/Uganda project manager Edith Mukisa joined the officials as they made their tour. Fistula Care looks forward to continuing to work with the Ugandan government to prevent and treat fistula.