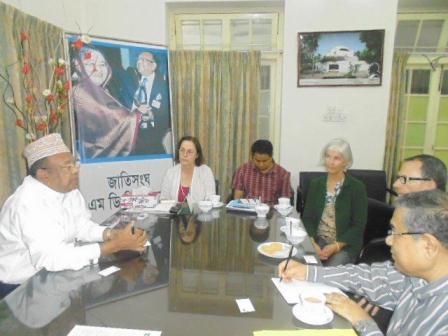 On November 13, 2012, Fistula Care staff members had the opportunity to meet with the Honorable Professor A.F.M. Ruhal Haque, Bangladesh's Minister of Health and Family Welfare, in Dhaka. The meeting was attended by Fistula Care's Project Director Karen Beattie, Medical Associate Celia Pett, and Bangladesh Program Manager Dr. Abu Jamil Faisel, along with EngenderHealth's Vice President for Program Management Paul Perchal and Bangladesh Team Leader for Postpartum Hemorrhage Prevention Dr. Saikhul Islam Helal. The discussion covered a range of topics relating to maternal health and family planning in Bangladesh and provided insight on the next steps for maternal health and family planning in the country. 
Bangladesh's commitment to improving maternal and child health has led to drastic reductions in maternal mortality, infant mortality, and under-5 mortality rates. Even with this success, most births in Bangladesh are not attended by a skilled professional, such as a doctor, nurse, or midwife. As a result, women continue to be at risk for maternal mortality and development of maternal morbidities, including obstetric fistula. Preventing such tragedies by increasing the percentage of facility births is seen as a major goal for the country.
The Honorable Minister acknowledged and praised the work of Fistula Care and Mayer Hashi, both projects managed by EngenderHealth and supported by USAID. He recognized the impact they have had on improving the lives of women and girls and ensuring that they have the number of children they want, not the number their circumstances dictate.
Fistula Care partners in Bangladesh have provided nearly1,000 fistula repair surgeries in Bangladesh.  The project supports four private hospitals to prevent and repair fistula and link women to reintegration services, and serves as the secretariat of the National Task Force on Obstetric Fistula.