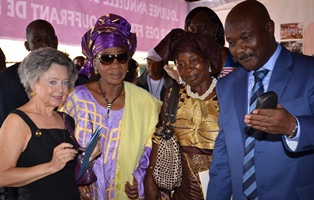 Every year since 2007, National Fistula Day takes place in Guinea to raise awareness about maternal health and advocate for women living with the condition. This year, the Guinean State Ministry of Social Affairs and Promotion of Women, other governmental ministries, representation from the First Lady of Guinea, the Coalition Nationale de Guinée pour les Droits et la Citoyenneté des Femmes (a national women-led nongovernmental organization), and the Fistula Care project collaborated to organize the event. EngenderHealth President Pamela W. Barnes and Fistula Care Project Director Karen Beattie were honored to attend this year.
Fistula Day drew a crowd of more than 200 people, including state officials, diplomats, members of nongovernmental organizations, community leaders, and journalists. Throughout the event, EngenderHealth staff distributed educational materials about maternal health and obstetric fistula.
The Fistula Care project in Guinea improves the lives of women disabled by obstetric fistula through a successful entrepreneurial development program. National Fistula Day was an opportunity for program participants to sell the soap and clothing they had learned to make in workshops.
In her opening remarks, Ms. Nantenin Konate, the State Minister of Social Affairs and the Promotion of Women, noted that worldwide, millions of "women and young girls still turn in shame and isolation, because of their untreated fistula." She said that "management of obstetric fistula must be done holistically, by the combined action of all" and congratulated the EngenderHealth staff in Guinea for their accomplishments. Fistula clients gave testimonies about their experiences living with the condition.
The United States Ambassador, Patricia Newton Moller, delivered a speech in support of women living with fistula, noting that "today's event affords me an opportunity to emphasize the U.S. Government's support and commitment to partnering with the government of Guinea to address a devastating health condition: fistula… We should not stop raising this issue until there are universal and unwavering commitments to prevent fistula through sound maternal and child health practices at local and national levels in Guinea." The internationally celebrated musical artist Sekouba Kandia Kouyate, who is also an outspoken advocate on fistula, performed during interludes throughout the event and was named as ambassador to advocate for women living with fistula.
In her speech, Pamela Barnes conveyed powerful messages to attendees, saying that the fact that there was a day "dedicated to raising awareness on fistula reflects your pioneering leadership and commitment to this issue. Years ago, fistula was a condition that people didn't openly discuss. But Guinea has shone a much-needed light on this issue, raising national-level awareness and giving hope to thousands of women who live with this condition."
Indeed, Guinea's commitment to fistula prevention and treatment was apparent at this event. National Fistula Day created momentum and public awareness to propel work in this area into the future.