New WHO Guidelines on Short-duration Catheterization Following Simple Obstetric Fistula Surgery
In April of 2015, WHO and the USAID-funded Fistula Care Plus project at EngenderHealth published results in The Lancet from a randomized controlled trial (RCT) on short-duration catheterization following fistula repair. The large-scale study demonstrated that short-duration bladder catheterization of 7 days post-repair was both safe and effective in appropriate cases. The trial randomized 524 participants in need of simple fistula repair to a either a seven or 14-day catheterization at eight sites in sub-Saharan Africa. Results of the RCT found no negative consequences for women receiving seven-day catheterization versus a longer period, as well as no significant advantages to catheterizing women for longer periods of time. "The study's randomized controlled trial design provides incredibly strong evidence. These evidence-based recommendations released by WHO are a critical step towards standardization of treatment for obstetric fistula and improving the post-repair standards of care around the globe," said Dr. Mark Barone, a senior clinical advisor at EngenderHealth and the study's principal investigator.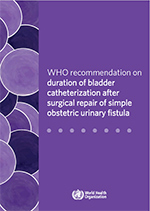 Fistula Care Plus is excited to announce that, based on the above findings, WHO has issued new recommendations on the length of bladder catheterization following surgical repair of simple obstetric fistula. The new recommendations, released on January 11, 2018, list a 7–10 day period of bladder catheterization to allow complete healing. Duration of bladder catheterization is the primary determinant of the length of a woman's hospital stay following fistula repair surgery. Until now, women remained in a facility with a catheter anywhere from a week to over a month, often based on provider preference rather than on evidence from clinical research. Implementation of the WHO recommendations will shorten the duration of catheterization, reduce discomfort and side effects for women, lower costs, shorten women's hospital stays, and enable treatment of more women at facilities limited by bed space.
About obstetric fistula
Obstetric fistula is typically caused by obstructed labor, after which the infant is most often stillborn and the woman is left with a hole in the birth canal that makes her incontinent. While largely preventable, 1 to 2 million women are believed to be in current need of fistula repair.[i] Women with obstetric fistula are sometimes abandoned or neglected by their husbands and families, often are unable to work, and may be ostracized by their communities.
According to WHO, obstetric fistula occurs primarily in sub-Saharan Africa (1.6 cases per 1000 women) and South Asia (1.2 cases per 1000 women). Most fistula are repaired surgically, and catheterization is a crucial component of post-repair care to allow full wound healing.
About the new WHO recommendations
The WHO released a statement saying, "As part of the World Health Organization's normative work on supporting evidence-informed policies and practices, the Department of Reproductive Health and Research has produced, as a first step, a new guideline that defines the length of time required for effective catheterization after the surgical repair of simple obstetric urinary fistula as a period of 7–10 days."[ii] According to the WHO, the primary target audience for this guideline is health-care professionals, specifically fistula surgeons and nurses providing postoperative care to women after they have received fistula surgery. The guideline will also be useful to NGO staff, national and local policy-makers, and other fistula stakeholders working towards the shared goal of ending fistula within a generation.
Access the WHO recommendations here: WHO recommendation on duration of bladder catheterization after surgical repair of simple obstetric urinary fistula
---
[i] Tripathi, Vandana. "New Findings Support Faster, More Cost-Effective Recovery for Women Following Obstetric Fistula Repair Surgery." Fistula Care Plus Blog. April 21, 2015. Accessed: https://fistulacare.org/blog/2015/04/new-findings-support-faster-more-cost-effective-recovery-for-women-following-obstetric-fistula-repair-surgery-2/
[ii] WHO. WHO recommendation on duration of bladder catheterization after surgical repair of simple obstetric urinary fistula. Accessed on Jan 12, 2018 from http://www.who.int/reproductivehealth/publications/simple-obstetric-urinary-fistula/en/