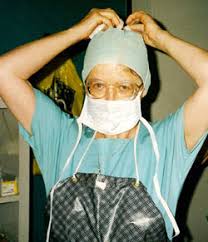 Authored by Elly Arnoff, FC+ Program Associate for Evaluation and Research. In honor of Dr. Maura Lynch, September 10, 1938 – December 9, 2017. 
On December 9 2017, the world lost one of its' most passionate leaders and dedicated advocates to end obstetric fistula – Sister Dr. Maura Lynch. Dr. Maura will be remembered across the world for her extraordinary life of service, profound intelligence, warm and compassionate energy, unrelenting courage, enthusiastic story-telling, and charming sense of humor.
Maura Lynch was born to Patrick and Jane Lynch on September 10, 1938 in the seaside town of Youghal, County Cork, Ireland. The fourth of nine children, Maura entered the Medical Missionaries of Mary (MMM) at the youthful age of 18. Ireland was a deeply traditional society at that time and women did not typically pursue medicine. Despite this challenging gender norm, Dr. Maura trail blazed her way through medical school at University College, Dublin (UCD), graduating in the top three of her class and becoming a doctor by the age of 26.1,2
Following a two-year internship at Our Lady of Lourdes Hospital, Dr. Maura first studied Portuguese in Lisbon and in 1967 moved to Angola for her first overseas assignment. In Angola, Dr. Maura served as the Director of Chiulo Hospital, a remote facility with limited resources. Throughout her twenty-year tenure in Angola, Dr. Maura contributed greatly to the development of the hospital, as well as the nurse training school. When civil war broke out in 1975, Dr. Maura tended to countless war wounded patients on both sides of the conflict and spent extensive time in the hospital's operating theatre. During this time, she would also frequently travel the 80km to Cuamato Health Centre, another remote health facility, to offer support and supplies to her medical colleagues. When it was not safe to travel by jeep for fear of attacks, Dr. Maura would make the journey by bicycle, crossing a bombed bridge by foot and wading through the Cunene River.3 Over dinner one night in Abuja in 2016, Dr. Maura endearingly told me stories of her time in Angola. She described how when she would travel by road in Angola, she would fend off tanks whose canons were pointed at her vehicle, by poking her head out of the window and waving her red-cross, medical flag. She giggled as she told me this story and I knew I was in the presence of a magnificent human being.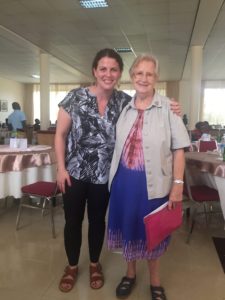 After Angola, Dr. Maura returned to Ireland and completed a surgery fellowship at the Royal College of Surgeons. She then journeyed to Anua, Nigeria, where she received training from the esteemed Dr. Ann Ward on genital fistula surgery. Upon completion of her training, Dr. Maura moved to Uganda, where she would spend the next thirty years serving women living with fistula at Kitovu Mission Hospital. At Kitovu, Dr. Maura provided women with fistula life-changing repair surgery. Prof Bill Powderly at UCD estimates that between 1993 and 2007, Dr. Maura performed over 1,000 fistula repairs and describes that as "a result of seeing at first hand the physical, psychological, and social isolation endured by African women, she became a champion of dignity and justice for women in the developing world."3 She also performed other needed surgeries and trained over 100 doctors, building their surgical capacity to provide fistula repair and other services.2
Throughout her career as a spiritual leader, doctor, and humanitarian, Dr. Maura received numerous international and national awards – including the Council of Europe's North-South Prize for her pioneering work with on genital fistula, UCD's School of Medicine Honorary Fellowship, and a Certificate of Residency for Life from the Ugandan government in recognition of her contribution to the health and wellbeing of its citizens.
In the booklet commemorating her at her funeral in Uganda, Dr. Maura was a described as, "a deeply spiritual woman whose fidelity to prayer was phenomenal in spite of her grueling work schedule.  She was also an 'all-rounder' contributing hugely to community life. She was a great comedian and a mimic and could entertain us all with the little plays put on a moment's notice…She was a beautiful singer and joined in heart and soul with the African liturgies and the Divine Office."
Dr. Maura is survived by three brothers, Fr Finbarr Lynch SJ, Kevin Lynch and Enda Lynch, and by her sister, Breda Rogers. She was pre-deceased by her sister, Kathleen, and three brothers, Brendan, Aidan and Ciaran.
The Fistula Care Plus team cannot understate the impact that Dr. Maura has made on the fight to end fistula, as well as on members of the team personally. It was an honor and a privilege to know and work with Dr. Maura, and we will continue our work in her honor.
References
Irish Embassy. "Remarks at funeral service of Sr. Dr. Maura Lynch MMM." Sr. Maura Lynch Funeral. Masaka, Uganda. Dec 13, 2017. Remarks.
McGarry, P. (2007, October 16). Mission to Care. Retrieved from https://www.irishtimes.com/news/health/mission-to-care-1.973152.
(2017, December 23). Irish nun who survived aerial bombings to become leading doctor in women's health. Retrieved from https://www.irishtimes.com/opinion/irish-nun-who-survived-aerial-bombings-to-become-leading-doctor-in-women-s-health-1.3334104