Fistula Care Plus joins the United Nations Population Fund (UNFPA) and other key partners annually in commemorating the International Day to End Obstetric Fistula (IDEOF). IDEOF creates an opportunity to further dialogue and intensify action within the international community to end all fistula. In the lead-up to 23 May, each country program coordinates a series of national and local media spots, hosts stakeholder meetings, and ramps up fistula prevention and treatment efforts.
During the 2016 commemorations, Fistula Care Plus was able to:
Appear in at least 16 newspaper or online print media sources;
Participate in at least 43 radio programs;
Participate in at least four television programs;
Host at least 19 local, national, or international events ranging from parades to panels at international conferences.
Highlights from commemorations across the globe include: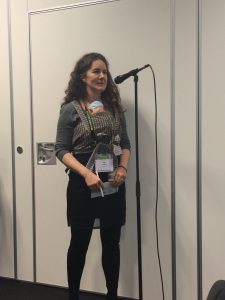 Copenhagen, Denmark: Fistula Care Plus coordinated two events at the Women Deliver conference, held May 16 – 19 in Copenhagen, Denmark. The concurrent session The Forgotten Challenge: Maternal and Newborn Morbidity featured an exciting panel, including a midwife from Bangladesh, a professor of obstetrics and gynecology from Burkina Faso, a newborn morbidity researcher from the UK, and the Director of Fistula Care Plus. During the question-and-answer portion of the panel, Erin Anastasi of the UNFPA Campaign to End Fistula publicly announced the theme for this year's International Day to End Obstetric Fistula- "End Fistula Within a Generation." FC+ also co-hosted a side event titled Safe Surgery: A Non-Negotiable for Women's Health, Equity, and Wellbeing? alongside the GE Foundation, the G4 Alliance, and Safe Surgery 2020. The breakfast event included an engaging dialogue featuring Dr. Denis Mukwege of Panzi Hospital (recently named one of TIME magazine's 100 Most Influential People), Erin Anastasi of the UNFPA Campaign to End Fistula, Dr. Luc de Bernis, formerly of UNFPA, and our own Dr. Lauri Romanzi, as they explored the intersection of safe surgical care and women's well-being, economic productivity, and equality.
Geneva, Switzerland: FC+ Director Lauri Romanzi attended the 69th World Health Assembly as a delegate alongside the G4 Alliance. Dr. Romanzi also participated in a global surgery event held on 23 May.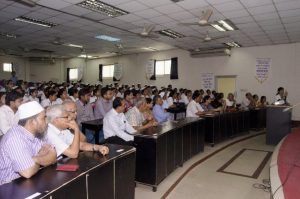 Bangladesh:  A workshop on fistula communication was organized by FC+ and linked to the airing of two produced audio-talks on safe maternity care and obstetric fistula. These talks were broadcast on more than 14 radio stations nationwide. Professionals from all 14 radio stations, as well as multiple television channels and newspapers, joined the workshop held at the University Fistula Center, where a handbook on fistula communication for community radio managers was launched.
Fistula Day celebrations were held at Kumudini Hospital, Ad-din Hospital Khulna, Bangabandhu Sheikh Mujib Medical University (BSMMU), and the National Fistula Center. Hundreds of doctors and nurses were able to attend these events, alongside consultant fistula surgeons, local politicians, and representatives from USAID/Bangladesh.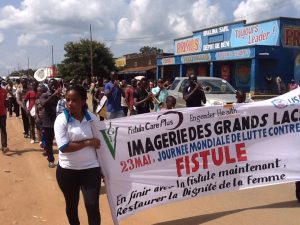 Democratic Republic of the Congo (DRC): Maternite Sans Risque du Kindu (MSRK) celebrated IDEOF with an event at the health facility. A family dinner was served to clients and staff following the commemoration. Imagerie des Grands Lacs (IGL) commemorated IDEOF with a parade through Beni, led by a brass band and carrying informative banners. The march culminated at the IGL facility, where facility staff and key stakeholders highlighted the intensified efforts to end fistula in the DRC. Following the event, all participants gathered for a meal.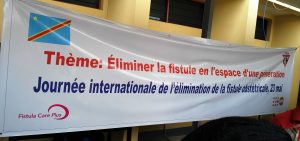 The FC+ project at St. Joseph Hospital, in collaboration with UNFPA, supported the Ministry of Health to commemorate IDEOF on 23 May at the Centre d'Etudes Pour l'Action Sociale (CEPAS). Just over 400 people were present at the event, mainly medical and nursing students, university professors, midwives, and members of nongovernmental organizations and civil society. Speakers included the director of the National Reproductive Health Program, the Chief of Urology at University of Kinshasa, and Dr. Dolores Nembunzu (FC+ Project Manager at St. Joseph Hospital). A former fistula client shared her experience of accessing care at the facility, and a skit on early marriage and pregnancy was performed by the theater group CECU. The Secretary General for Health closed the event with a speech, before all attendees joined together to since the Congolese national anthem. As members of the media were present, FC+ DRC looks forward to seeing highlights reported in the coming weeks.
West Africa Region/Niger: IDEOF activities in were Niger launched on 27 May with a "conference debate" on fistula prevention. The event was widely covered by the national media. More than 200 participants attended, among them physicians, midwives, nurses, and government officials.
On Friday, 3 June, the First Lady of Niger, Dr. Malika Issoufou Mahamadou, hosted a Special Day at the Centre National de Référence pour la Fistule Obstétricale in Niamey. She visited with clients and provided a donation to the facility. This visit was followed by a roundtable discussing the implementation of the National Fistula Strategy, which FC+ has supported through review and updates.
Nigeria: Nigeria commemorated 23 May with a special focus on the media. In total, the Nigeria program was able to conduct two television spots, publish at least six newspaper articles, and host at least nine radio programs. Some of the radio programs had nationwide coverage, such as the two-hour call-in "Radio Link" program on Radio Nigeria. This radio spot aired on 4 June in honor of IDEOF and featured Her Excellency Dr. Amina Abubakar Bello, the Wife of the Executive Governor of Niger State; Professor Oladosu Akambi Ojengbede, President Elect of the International Society of Fistula Surgeons; Dr. Mrs. Binyerem Ukaire, Head of the Fistula Desk, Federal Ministry of Health; Dr. Habib Sadauki, FC+ Country Project Manager; and Ms. Nene Afuekwe Adesua, a successfully repaired fistula client and advocate.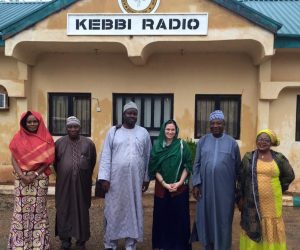 In addition to raising awareness using mass media, the FC+ Nigeria team visited the Gesse Fistula Center in Birnin Kebbi, Kebbi State, for an event commemorating 23 May. The facility had just finished a week-long pooled-effort campaign in honor of IDEOF, where 50 women received fistula surgery. The Acting Permanent Secretary of the State Ministry of Health (SMOH), the SMOH FP Coordinator, and the SMOH Director of Pharmaceutical Services joined the FC+/Nigeria-sponsored event and handed over needed hospital supplies. The following day, FC+ visited another supported site, Maryam Abacha Fistula Hospital in Sokoto, alongside the State Commissioner for Health. FC+ also coordinated with the First Lady of Sokoto State, who visited Maryam Abacha facility later in the week to make donations in honor of IDEOF.
Townhall meetings were also conducted in Jigawa and Zamfara states to mark the day. The Honorable Commissioner of the Ministry of Women Affairs and Social Development of Jigawa State, Hajiya Ladi Dansure, recognized the efforts made by the local community-based organization VILDEV and by FC+/Nigeria during the townhall. After the meeting, a visit was paid to Jahun VVF center, where new wrappers were presented to each fistula client. Jigawa TV (JTV), NTA, Dutse, Radio Jigawa, and Freedom Radio representatives attended the meeting.
Uganda: FC+/Uganda commemorated IDEOF on 23 May in Arua District. Arua District is located in northwest Uganda, in the West Nile Region about 425 km from Kampala. The day was preceded the prior week by an obstetric fistula screening and surgical treatment camp at Arua Regional Referral Hospital, where FC+ supported the participation of three fistula surgeons. FC+ also provided t-shirts to participants from the Arua nursing school and the Arua primary school and to women's groups that took part in the commemoration march around Arua town and surrounding communities on 23 May.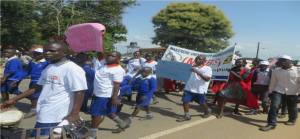 Among the many invited guests to the event were the outgoing Minister of Health of the Government of Uganda, Dr. Sarah Achieng Opendi; the commissioner in charge of clinical services at the Ministry of Health, Dr. Jacinto Amandua; newly elected members of Parliament; district leaders; the community at large. The Honorable Dr. Sarah Opendi recognized the efforts made by the development partners in supporting fistula repair work. She also reminded politicians and government officials that they have a key role in the fight against fistula and that their support and action is crucial to sustaining current efforts. She drove home the message that dedication is needed at all levels by reminding everyone that some women arriving at the center had walked miles by foot to seek treatment. It was a powerful reminder that on 23 May, and on all days, the global community must match their determination to end fistula and prevent future cases in the next generation of girls and women.