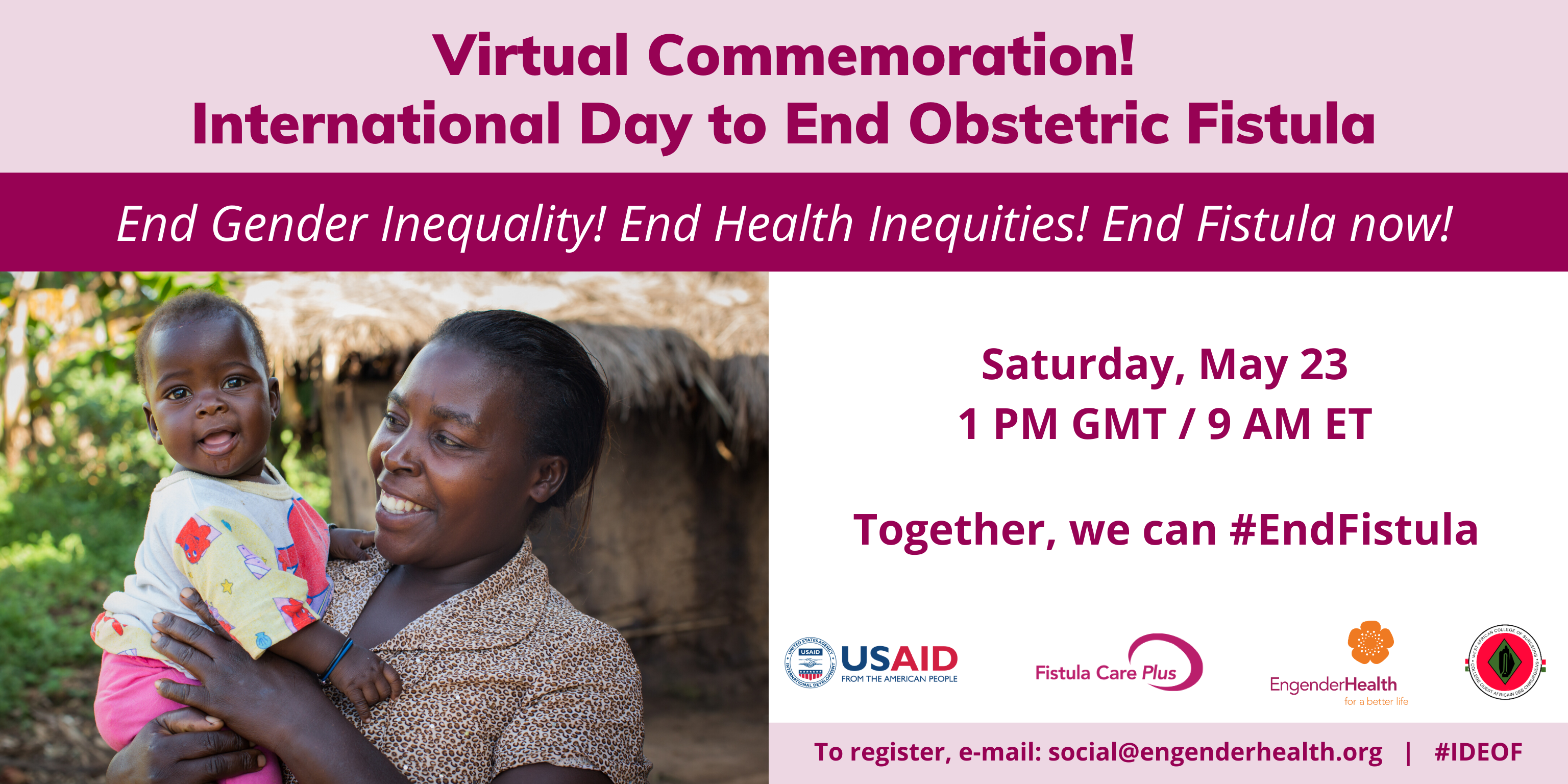 Date and Time:
Saturday, May 23, 2020 at 13:00 GMT
To register, please email:
[email protected] and you will receive a Zoom link.
The West African College of Surgeons (WACS) and EngenderHealth's Fistula Care Plus (FC+) project will be hosting a virtual panel in honor of International Day to End Obstetric Fistula (IDEOF). The theme for this year's IDEOF commemorations, as announced by UNFPA Executive Director Dr. Natalia Kanem, is "End gender inequality! End health inequities! End fistula now!" Dr. Kanem states, "As health systems struggle to respond to COVID-19, the pandemic stands to take a huge global toll on maternal and newborn health. Already, the crisis is compounding the economic, social and logistical barriers that women and girls face in accessing sexual and reproductive health services. Even where services are available and accessible, fear, misinformation and stigma related to COVID-19 are deterring some pregnant women from seeking obstetric care. The absence of timely medical treatment will likely spur a dramatic increase in obstetric fistula, a serious childbirth injury resulting from prolonged, obstructed labour."
Saturday's webinar will discuss the known barriers to adequate maternal health services in the region, as well as the strong efforts by FC+, WACS, and partners to break down these barriers. The webinar will be open to all who are interested in West Africa and globally. Please accept our apologies for the late notice due to the current circumstances dominated by COVID-19 pandemic. However, even in these uncertain times fistula patients should not be left behind.
Co-Hosts:
EngenderHealth's Fistula Care Plus (FC+) project and West African College of Surgeons (WACS)
Speakers:
Representatives from EngenderHealth's FC+ project, WACS, International Society of Fistula Surgeons (ISOFS), and USAID West Africa.
Guests of Honor:
Her excellency Dr. Zainab Bagudu, First Lady Kebbi State, Nigeria, and Her Excellency Chief Mrs. Racheal UMAHI, First lady of Ebonyi State, Nigeria
We look forward to hosting you at the webinar. Again, to register please email [email protected] for a Zoom link.