The United Nations has set a goal to end fistula by 2030. Accomplishing this requires a multi-pronged approach that includes identifying women currently living with fistula, preventing new cases from occurring, and building health care worker capacity for treatment. Dr. Vandana Tripathi, Director of EngenderHealth's Fistula Care Plus (FC+) project, recently wrote about the project's training efforts and key partnerships to strengthen the healthcare workforce in a new article for the Wilson Center.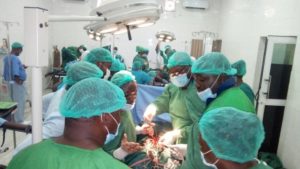 Providing high-quality surgical training can reduce the incidence of iatrogenic fistula, or fistula caused unintentionally by a health provider. Most iatrogenic fistula is caused by errors during cesarean sections— an issue becoming increasingly common as the rate of cesarean section rises rapidly in many low- and middle-income countries. To understand the issues contributing to unsafe cesareans and iatrogenic fistula and identify ways to solve these problems, we must involve and expand the health workforce. Ensuring technical skills such as midwifery-led labor management can reduce the incidence of unnecessary cesarean deliveries, while improved surgical training for doctors providing comprehensive emergency obstetric care ensures that, when cesarean sections are indicated, they are safe and of adequate quality.
Additionally, some obstetric fistula can be prevented and treated through interventions delivered by midwives without the need for surgery. Women who have experienced prolonged/obstructed labor can be provided with appropriate urinary catheterization, which has been shown to prevent fistula from developing and, in some instances, also treats smaller, new fistulae. Clinicians should receive training to consistently deliver this intervention, decreasing the need for surgery in many cases.
To strengthen the health workforce in a region with a high fistula burden, FC+ has formed a new partnership with the West African College of Surgeons (WACS). The partnership was officially announced at the 60th WACS Annual Meeting in Abuja, Nigeria, in February 2020. FC+ and WACS are collaborating to create a costed workforce development plan that supports the Economic Community of West African States (ECOWAS) to meet its Assembly of Health Minister's call to end fistula in the region by 2030.
To read more on this partnership and other FC+ fistula initiatives, visit the Wilson Center's New Security Beat blog.