Co-authored by Elly Arnoff, FC+ Program Associate for Evaluation and Research and Lauren Bellhouse, consultant and former FC+ Senior Program Associate.
What can a mobile phone do to help connect women with fistula treatment services? Fistula Care Plus (FC+) is partnering with Viamo to provide a free phone hotline that screens women for fistula. Using interactive voice response (IVR) technology via mobile devices, a caller can flash into a toll-free number and receive a call back. The IVR algorithm screens women for fistula and provides recorded messages about how and where to get treatment. FC+ launched this hotline to target particularly hard-to-reach women living with fistula who have not been reached through existing community outreach efforts.
In 2016, FC+ partnered with the Population Council to conduct action-oriented research and design a comprehensive information, screening, and referral intervention aimed at reducing the awareness, financial, and transportation barriers that impede women's access to fistula treatment in Nigeria and Uganda. In 2017, FC+ launched the Fistula Treatment Barrier Reduction Intervention to strengthen community-based screening and referral mechanisms within the catchment area of two fistula treatment facilities in Nigeria and one facility in Uganda. The intervention's activities include:
Launching a fistula screening hotline. A free phone hotline service is being widely advertised by trained community volunteers, local radio messages, and through graphic flyers. The hotline screens women for fistula via their mobile device using interactive voice response (IVR) technology.
Creating a transport voucher mechanism. FC+ worked with local taxi companies to establish a transport voucher mechanism, whereby positively screened women and a companion are entitled to travel for free to and from the fistula treatment facility.
Training of primary health care (PHC) workers. FC+ trained doctors, midwives, nurses, and community health workers across three catchment areas with the aim of strengthening fistula screening and referral at the primary health care facility level. PHC workers use a paper-based job aid to screen women for fistula and facilitates the patient's free transportation to the treatment facility using the voucher.
Engaging community agents. Local partners trained community volunteers to conduct community outreach activities on birth preparedness, safe delivery, fistula symptoms and treatment services, advertise and utilize the fistula hotline to screen women for fistula, and follow up with positively-screened to facilitate their free transportation to the treatment facility using the voucher.
How the fistula screening hotline works: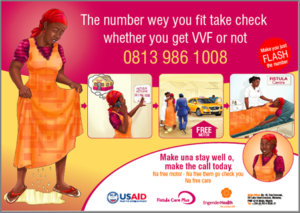 The hotline is available in English, Igbo, Hausa, and Pidgin in Nigeria Luganda in Uganda. A caller first chooses her language and is then asked her age, followed by the key fistula symptom screening question, "Do you currently experience constant leakage of urine or feces from your vagina during the day and night even when you are not urinating or trying to urinate?" For women who answer "yes," the hotline collects data on demographics, etiology of fistula, and experienced barriers to treatment. Women who screen positively within the intervention catchment areas receive a follow up via phone from a community agent. Women who screen negatively both within and outside the intervention catchment areas hear a message saying they should visit their nearest health facility to have the symptoms concerning them evaluated.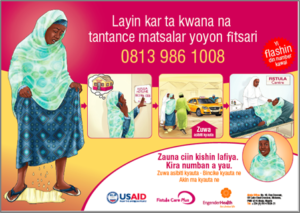 It is important to consider issues around confidentiality around mobile phone usage. Some women who call the hotline may not be using their own phone or some callers may share phones with other family members. Given this, it is important to ensure confidentiality of the caller and not disclose a fistula client's personal information to the wrong person when follow-up is conducted.
The hotline is accessible nationwide in both Nigeria and Uganda, and at information about the hotline spreads outside the catchment areas. To address this programmatically, the intervention sends follow-up voice and SMS messages to women who call from outside the catchment areas specifying the nearest fistula treatment facility.
Now referring back to the original question, "how can a mobile phone connect women with fistula treatment?" FC+ and Population Council have a hypothesis that will hopefully help utilize technological advances and increasing mobile phone access to connect marginalized women in even the most remote areas to critical health services, including evaluation and treatment for fistula. Initial findings are expected to be disseminated by late 2018.
For inquiries related to the FC+ and Population Council research or the IVR hotline, contact Elly Arnoff at YArnoff@engenderhealth.org.