International Day to End Obstetric Fistula is on May 23
By Ulla E. Müller and Lauri Romanzi, originally posted on Medium.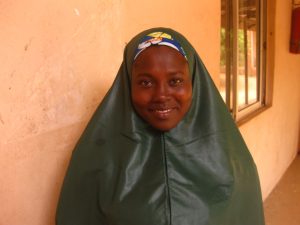 At the leading national teaching hospital in Ibadan, Nigeria, Professor Oladosu Ojengbede treats some of the most vulnerable and disenfranchised members of society — women living with obstetric fistula, a devastating but preventable condition caused by prolonged, obstructed labor.

A veteran surgeon and professor of obstetrics and gynecology in a country with one of the highest maternal death rates in the world, and where just 35% of deliveries are attended by skilled attendants, Dr. Ojengbede has seen it all. Fortunately for those seeking help, Dr. Ojengbede — and many others like him — are just as committed today to healing women as when they started medical school.

One might assume that experienced surgeons like Dr. Ojengbede and his team undertake surgery, as well as pre-and postoperative care, in a manner driven by knowledge, instinct, and routine. What they also use to make it safer for their patients is something far simpler: safe surgery checklists.

While safety checklists are ubiquitous in manufacturing, construction, and aviation industries, they unfortunately have yet to become the norm in health care and medicine. Yet in a large study spanning eight hospitals in eight cities around the globe serving diverse populations, incomes, and clinical environments, researchers saw surgical complications and death drop significantly — by more than a third — in all hospitals where the surgical checklist developed by the World Health Organization (WHO) was in use.

Building on the WHO tool, EngenderHealth's Fistula Care Plus team developed a Surgical Safety Toolkit consisting of an adaptable system of quality assurance tools and safety checklists to standardize surgical care for women with fistula, prolapse, and incontinence — ensuring patients receive consistently high-quality care spanning from the moment they are admitted to the hospital until long after they have been discharged. Available in English and French, the checklists are universal so they can also be used for any type of surgery offered by health facilities.

Quality surgical care is one part of the equation — it must go hand-in-hand with counseling and access to contraception as key preventative measures. Beyond ensuring that surgeries are safe and that protocols are standardized, it is equally critical that we focus on interventions that we know can prevent fistula from happening in the first place.

To that end, these checklists also cover counseling on the importance of abstinence during the recovery period, as well as on contraceptive options to prevent unintended pregnancy, among other issues important to overall health and wellbeing.

Any surgeon will attest to the complexity and variability of fistula cases — no two fistulas are alike. The operating theater is a high-stakes environment for the patient and staff where split decisions are made and anything can go wrong. Checklists are a simple, evidence-based practice that can minimize the chance for negative outcomes by reminding even the most expert surgeons and providers about critical questions and next steps.
"Checklists are important for every clinician and health care provider to use…to maintain integrity, the Hippocratic Oath, to ensure ethical practices… and to provide the highest standard of care for all the patients we look after." — Professor Oladosu A. Ojengbede, Director, Center for Population and Reproductive Health, University College Hospital, Ibadan Nigeria
This year's theme for International Day to End Obstetric Fistula is "hope, healing, and dignity for all." It is a noble message to unite all of us who are concerned with reaching the many women who are awaiting fistula repair in Africa and South Asia.

The global community is making progress, but we must continue to call for more resources and more attention if we are to make a difference for the women and girls who suffer from this debilitating, isolating, and entirely preventable condition.

In the quest to ensure we are reaching women who need surgery, preventing as many cases as possible through access to skilled maternity care and contraception, and improving surgical safety and quality of care, we must leave no stone unturned.

A checklist may sound like a small and simple measure, but it's proving to be the key to saving lives — and to providing hope, healing, and dignity for all.
---
Ulla E. Müller is President and CEO of EngenderHealth. Lauri Romanzi, MD, FACOG, is a surgeon and Project Director for the Fistula Care Plus initiative at EngenderHealth.