Since 2012, Fistula Care Plus (FC+) and the prior Fistula Care Project have worked with the Nigeria Federal Ministry of Health (FMOH) to develop a national policy and guidance on the use of urethral catheterization, or the placing of a tube into the body to drain urine from the bladder, to prevent and conservatively treat fistula without surgery. In March 2016, these efforts culminated in the FMOH approval of guidelines on urethral catheterization for prevention and management of obstetric fistula, developed through meetings and discussions convened by FC+.
The guidelines document was formally launched at the opening of the International Society of Obstetric Fistula Surgeons (ISOFS) conference in Abuja, Nigeria in October 2016, by the Honorable Minister of Health and EngenderHealth CEO Ulla Müller.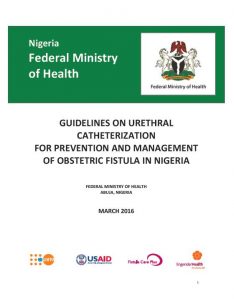 Eradication of obstetric fistula in Nigeria presents an enormous challenge, partly because of the financial resources required, but also because of shortages of appropriately trained personnel, insufficient equipment and the uneven distribution of Nigeria's skilled health workforce. Recent acceleration of fistula repair through "pooled effort" repair campaigns featuring visiting surgeons as well as outreach services by the Federal Ministry of Health, development partners, and nongovernmental actors have led to almost 6,000 repairs annually in Nigeria. Even with this increase, it will take many years and huge investments to clear the current backlog of women suffering from this devastating condition. Along with the need to invest in surgical capacity building and the healthcare workforce, this challenge also underscores the importance of preventing fistula from occurring in the first place.
Research over the last two decades suggests that some cases of obstetric fistula presenting soon after the injury may heal without the need for surgery if the bladder is continuously drained with a urethral catheter. It is estimated that early management with a catheter could lead to closure of the fistula in 25% of suitable cases. Treating fistula conservatively, or preventing its formation by catheterization of women with prolonged obstructed labor, offers a promising alternative to surgical repair by sparing women additional surgical trauma and allowing efficient use of scarce resources.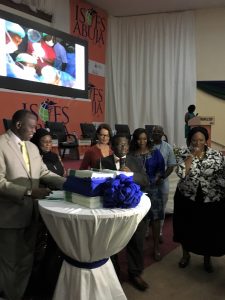 In March 2013, the USAID-supported Fistula Care Project (predecessor to the current Fistula Care Plus) convened a consultative meeting in Abuja, Nigeria, to review current guidelines and practices, discuss knowledge gaps, and develop recommendations for standardized approaches to catheterization for prevention and conservative treatment of fistula. The meeting brought together a group of expert Nigerian and international fistula surgeons, representatives of professional nursing and midwifery associations, and officials from Nigeria's Federal Ministry of Health alongside global Fistula Care staff. In preparation, Fistula Care conducted a pre-meeting review of pertinent literature. Meeting discussions were informed by pre-meeting review of literature, as well as the results of an informal survey of current catheterization practices among fistula service providers at both Fistula Care–supported and non-supported sites in Nigeria. Participants made recommendations for provider training as well as research to address information gaps. Meeting participants also developed consensus algorithms for simplified, standardized approaches to conservative treatment of fistula by catheterization as well as catheterization during and immediately after prolonged or obstructed labor to prevent fistula. Meeting proceedings were presented in a report disseminated within Nigeria and online. This meeting and subsequent recommendations were a first step to assist the Nigerian Ministry of Health in its process of developing finalized national guidelines for urinary catheterization for fistula prevention and treatment, and have informed the guideline presented here.
The launch of the catheterization guidelines in Nigeria is an exciting example of strong collaboration between Fistula Care Plus, the international surgical and maternal health communities, and the FMOH of Nigeria to translate evidence-based approaches into policy recommendations and guidelines. The printed guidelines document was officially presented back to the international community who collaborated in this effort at the 2016 ISOFS conference in Abuja, Nigeria. The ISOFS conference also provided a significant platform for wide dissemination of research and best practices by FC+ staff and partners. In total, 34 abstracts supported by the project (25 oral; 8 posters; 1 oral & poster) were accepted to the conference.