Anna Wadsworth most recently worked for the EngenderHealth Fistula Care Plus project. Previously she was a research assistant for an antenatal care study in Kumasi, Ghana.  She received her MSc from the London School of Economics, where she graduated with high honors.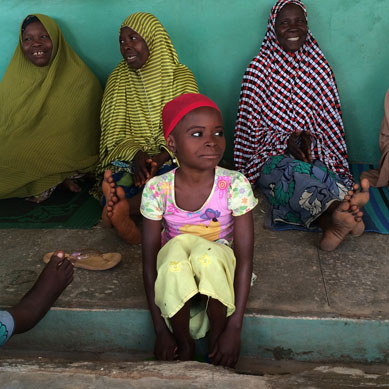 As 2015 draws to a close, the Fistula Care Plus team would like to share some of our achievements from this year, accomplishments which we are very proud of. From Bangladesh to Togo, our committed, passionate, and determined staff has worked to address, prevent, and treat fistula.
Fistula repair
It's estimated that around two million women and girls suffer from fistula globally. Those who develop this condition are often prevented from seeking care and treatment is due to a combination of factors such as poverty, living in a geographically remote area, or lacking the knowledge that treatment exists. As of November 2015, Fistula Care Plus increased its fistula repairs by nearly 240% from last year- meaning there are now 2,876 less women living without hope. These repairs are carried out by trained providers at 31 supported sites across six Fistula Care Plus-supported countries- Bangladesh, DRC, Niger, Nigeria, Togo, and Uganda.
Advocating for the end of fistula
On May 23rd, we joined our global partners to mark the International Day to End Obstetric Fistula (IDEOF). In Bangladesh, two audio programs on fistula were aired on 13 radio stations. Our team in Uganda worked with partners to sponsor a fistula treatment camp in Hoima district, which has the highest prevalence of obstetric fistula in Uganda. In Nigeria's Kano State, a day of activities concluded with a graduation ceremony for 100 fistula clients who had participated in income generation training. Women were presented with income generation tools, including small grants and sewing machines.
Integrating pelvic organ prolapse into fistula services
This year we began to formulate a strategy for the integration of pelvic organ prolapse treatment into our programs. Pelvic organ prolapse (POP) occurs when the connective tissue support systems for pelvic organs adjacent to the vagina (uterus, bladder, rectum) fail, allowing the organ to drop from its normal place and push against the walls of the vagina. This serious condition affects many women, with the WHO estimate ranging from 2-20% of women under 45 suffering from some form of POP.[i] Similar to fistula, severe POP can have dramatic effects on women's wellbeing and quality of life. Integration of POP services into the Fistula Care Plus project is a substantive change begun in 2015. This integration is consistent with calls to action in published literature to truly address unmet health needs in low and middle income countries.[ii] As of September 2015, ten Fistula Care Plus sites were providing pelvic organ prolapse treatment, and saw a total of over 1,300 women seeking treatment.
Developing provider skills
Training providers and strengthening their capacity for fistula prevention and repair is at the core of our program. During this past year, Fistula Care Plus trained 22 surgeons in Bangladesh, the DRC, Niger, Nigeria, and Uganda. For 11 surgeons, it was their first time participating in training for surgical fistula repair. The project also sponsored advanced training on reconstructive surgery and complex fistula repair for three surgeons from Nigeria and Niger. In total, across all of our program countries, over 1,000 health system personnel were trained on a variety of non-surgical topics including the provision of family planning, fistula counseling, infection prevention, and emergency obstetric and neonatal care.
Strengthening the evidence base
2015 was an exciting year for the monitoring, evaluation, and research aspects of the Fistula Care Plus project in part because the team developed a DHIS2 platform for data collection, analysis, and storage. As an early NGO adopter of DHIS2, Fistula Care Plus was invited to present on our experience at the DHIS2 for iNGOs Global Symposium in Washington DC. Team members have also presented at other forums during the year, including FIGO Congress in Canada, the first ECOWAS Good Practices Forum in Burkina Faso, the Annual Meeting of the Inter-Agency Working Group on Reproductive Health in Crises in Jordan, and the Global Maternal and Newborn Health Conference in Mexico City. Seven publications were accepted or published in peer reviewed journals during 2015. One of the most heralded articles to be published this year was the results of a randomized controlled trial on short-duration catheterization, which was completed under the previous Fistula Care project and published in April 2015 in the Lancet.[iii]
Moving towards a fistula free world
In the new year we hope to sustain the increase in the amount of fistula repairs and will continue to provide comprehensive fistula repair training. We'll seek to deepen our understanding of the barriers to fistula prevention and treatment.  We'll also be focusing on community outreach, and will work on developing strategies that can help communities prevent fistula. The Fistula Care Plus team is looking forward to next year, and we are excited about the crucial work that will continue in 2016.
[i]Prual A, Bouvier-Colle MH, de Bernis L, Bréart G. Severe maternal morbidity from direct obstetric causes in West Africa: incidence and case fatality rates. Bull World Health Organ. 2000;78(5):593-602.
[ii] Gunasekera P, Sazaki J, Walker G. Pelvic organ prolapse: don't forget developing countries. Lancet. 2007 May 26;369(9575):1789-90.
[iii] Barone, Mark A et al. Breakdown of simple female genital fistula repair after 7 day versus 14 day postoperative bladder catheterisation: a randomised, controlled, open-label, non-inferiority trial. The Lancet , Volume 386 , Issue 9988 , 56 – 62