EngenderHealth is pleased to share the news that Dr. Lauri Romanzi has joined the Fistula Care Plus team, taking over the key position of Project Director from the beloved Karen Beattie.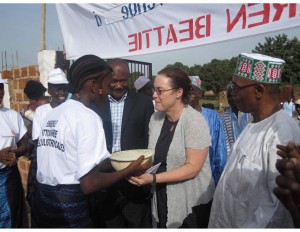 Fistula Care Plus, along with the previous Fistula Care project, was successfully led by the Karen until her departure in April 2015. The FC+ team would like to join our partners as well as the clinicians at our supported global sites in thanking Karen for her dedication to the women that this project works for. Karen's years of leadership have touched thousands of lives and truly shaped what the project is today. We are grateful for her guidance and the legacy she has left, and wish her the best as she enjoys retirement.
Lauri Romanzi is a physician and the incoming Project Director for Fistula Care Plus project of EngenderHealth, Inc. Dr. Romanzi is U.S. board certified gynecologist with sub-specialty board credentials in Female Pelvic Medicine and Reconstructive Surgery (FPMRS). She most recently served as Visiting Associate Professor of Female Pelvic Medicine to Yale University, engaged in fistula and FPMRS capacity building in Rwanda's Human Resources for Health. This work included quality assurance implementation at the Centre Hospitalier Universitaire de Kigali (CHUK), developing graduate and post-graduate programs in gynecology and urogynecology for the University of Rwanda College of Health Sciences, and development of a central academic and regional district hospital outreach care program for genital fistula, pelvic organ prolapse, incontinence, and other congenital and acquired pelvic floor disorders.  This work was supported by the Government of Rwanda with financial aid from the US government.
Dr. Romanzi's international program management experience in Africa and Asia includes program development and management, national strategy for fistula eradication, protocol development and technical oversight, capacity building, database guidance, registry design, and grants acquisition.  She is familiar with, and known to, all the stakeholders within the "fistula community," as well as a broader maternal health community that works internationally.  She has a vision for fully integrating fistula prevention into maternal health services, as well as integrating fistula care into a broader scope of female pelvic medicine service models.  She has worked with most of the multilateral and bilateral agencies, international NGOs, professional associations and academic institutions in this field in various capacities in countries including Afghanistan, Ghana, Nepal, Eritrea, Democratic Republic of Congo, Somaliland, Niger, Togo, Guinea and Senegal.
We would like to warmly welcome Dr. Romanzi to Fistula Care Plus and look forward to her leadership as the project moves forward!