The newest Maternal Health Task Force blog post highlights an exciting new report which will be officially launched on May 19. The launch is planned during a World Health Assembly even hosted by the delegations from Cameroon and Malawi. The launch event is co-sponsored by contributors to the Every Newborn Action Plan and will feature a newborn health progress update for the one-year anniversary of the plan's adoption.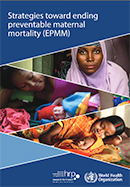 The report, entitled Strategies toward Ending Preventable Maternal Mortality, proposes a global target for maternal mortality, supplemented by context-specific national-level targets. The targets and strategies are grounded in a human rights approach to maternal and newborn health, and focus attention on eliminating significant inequities that persist, resulting in disparities in access quality, and outcomes of care within and between countries.
The Strategies toward Ending Preventable Maternal Mortality report is the result of a collaborative process led by the WHO in partnership with the Maternal Health Task Force (MHTF), UNICEF, UNFPA, USAID, Family Care International, Maternal Child Survival Program (MCSP) and the White Ribbon Alliance.