Maison Dorcas III at the Panzi Foundation was inaugurated in the early afternoon on Tuesday September 3, 2014 in the Ibanda township situated in Bukavu, the capital of the South Kivu province of the DRC.
It was a colorful and spectacular event.  About one hundred women chanting, singing and dancing merrily for the occasion, welcomed the guests upon their arrival in front the Maison Dorcas premises.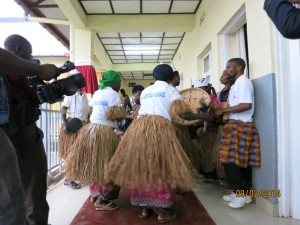 After the traditional welcome songs and dances, Norway's Minister of Foreign Affairs assisted by Dr. Denis Mukwege cut the ribbon thereby enabling the numerous guests to walk through the portal to discover the main facade of a two-storey building. Once inside, all the guests took seats on the first and second floors, looking into the interior patio where an orchestra was playing music.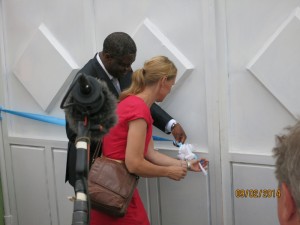 Once everyone was comfortably seated, the ceremony began with the performance of the National Anthem, Debout Congolais.
Then, participants took turn to talk, Herman Mukwege spoke about the history of the Maison Dorcas. Afterwards, two women emphasized on how the Maison Dorcas contributed to their empowerment and, a group of jubilant women, men and children played and danced on local folk music to express their gratitude to Dr. Denis and Maison Dorcas.  Finally, the Foreign Affairs Minister of Norway, the representative of the Norwegian Church Aid and Dr Denis Mukwege gave their respective speeches.
A guided-tour of the Maison took place with the showcasing of products of the different Maisons Dorcas and the ceremony closed with a cocktail party.
The construction of this Maison Dorcas was made possible thanks to 2 main donors, the Norwegian Government and the Norwegian Church Aid.
Initially set up as a transit house by Dr. Denis's relatives to help him provide care and assistance to abused women, Maison Dorcas has grown to become more than a transit house, it is also a place where discriminated and marginalized women, or any woman can be empowered.