In 2005, at the age of 17, Doreen was in school and had a boyfriend who was in a higher grade than her. During the school holidays, Doreen decided not to go back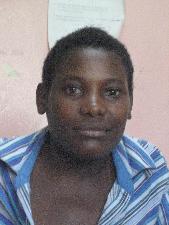 to her mother's home but stayed with her boyfriend, who had rented a house for them to live in. It was during this time that Doreen became pregnant. At the end of the holidays, she went back to her mother's home, but her mother was so upset with her bad behavior that she told her to leave and refused to pay her school fees for the following term.
Doreen never went back to school but continued to stay with her boyfriend. As Doreen neared the end of her pregnancy, her boyfriend decided to take her to his sister's house to deliver. When Doreen was in labor, the sister took her to a traditional birth attendant, who assured them that she would be alright. Doreen was in labor for two days, however, and she failed to deliver. By the time the sister got Doreen to the local hospital, her baby was stillborn. After the delivery, she was catheterized for two days, but when the catheter was removed, she started leaking urine. Doreen was discharged and was told to come back after three months so that her fistula could be repaired. Doreen went back to her mother's house, but her mother was so angry and disappointed with her that she would not allow her in the house. Doreen's mother said that she should return to her boyfriend's family and that they should take care of her. Doreen returned to her boyfriend, but he gave her little support. As she said, "I suffered in the village, because people laughed at me for leaking urine and that made me miserable."
After three months, when Doreen returned to the local hospital, they referred her to Kagando Mission Hospital, a faith-based facility that receives support from the Fistula Care Project to provide fistula repair surgery. When Doreen arrived at Kagando Hospital, she was admitted and operated on. She is now catheterized and continues to have some leaking, but the staff at Kagando are confident that she will soon be fully healed. Now, at the age of 21, Doreen's greatest wish is that she will be healed so that she can go back to her mother and return to school.