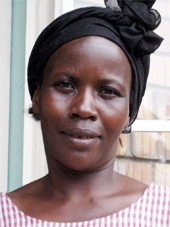 Airati is a mother of five in western Uganda. As a young woman, she finished primary school, but when the money for school fees ran out, she moved in with an aunt to work at a family-run restaurant. When Airati was 17, she met a man and got married. That same year, she became pregnant. When the time came to deliver, Airati went to a nearby clinic, where she had attended antenatal care services. The nurse at the clinic attended to her, but after a day, her husband decided to take her to a local hospital.  Airati was admitted and gave birth, but her baby lived only 30 minutes.
After the birth, Airati had pain in the upper right side of her leg, and she could not walk by herself. She had to be supported by the nurses and her husband to move around. Airati was put on bed rest, and the next day she discovered urine on the bed beneath her. A doctor inserted a catheter for one week, and when Airati was discharged, she was no longer leaking. Unfortunately, by the time she arrived home the following day, the leaking had started again.
Airati stayed at home with her problem. She became pregnant, but she miscarried after five months. She went to the local hospital again, but they told her that they could not help her with her leaking. Another year went by, and Airati became pregnant again. She went into labor while visiting her sister. She had a normal delivery and gave birth to a baby girl named Anna.
Airati went back to her husband after the birth and continued to leak urine. To control her problem and the flow of urine, she tried to drink as little as possible. While she was leaking, her husband was always understanding, and her sisters and relatives were helpful and sympathetic. Airati became pregnant four more times, giving birth to Hope, Ivan, Doreen, and Julius. With five children, Airati did not want to become pregnant again, but her husband still wanted more children. As a result, her husband left her and his children and married another woman. Alone and with few choices, Airati started farming to raise school fees for her children, and she opened a small market stand near her home to raise money.
In 2007, Airati went to stay with her sister. One of her aunts told her about Kitovu Hospital and the fistula repair services they offered there. Her aunt gave her money for transportation. After traveling seven hours, Airati was admitted and operated on in July 2008. Airati could not believe that they addressed her problem so quickly. In the future, Airati says, she will "tell others about the dangers of early pregnancy." Now, after 20 years of leaking, Airati is healed, and she hopes that when she has fully recovered, she will be able to work and raise money to send her children to school.