On June 9, 2010, at the Women Deliver 2010 conference, Fistula Care Project Director Karen Beattie had the opportunity to moderate "Innovations in Fistula Prevention, Treatment, and Reintegration," a panel supported by the International Obstetric Fistula Working Group (IOFWG). The panel brought together diverse voices in the fistula field to talk about novel strategies and innovations in the fistula programming field.
Dr. Ileogben Sunday-Adeoye and Her Excellency Josephine Elechi gave the opening presentation (PDF, 698KB) on this diverse panel. Dr. Sunday-Adeoye is a fistula surgeon in southeastern Nigeria's Ebonyi State. Mrs. Elechi is Ebonyi's first lady, the champion of the state's Mother and Child Care Initiative. This initiative was the driving force behind a new law requiring the reporting of maternal deaths and the transfer of women who are experiencing prolonged labor. Dr. Adeoye shared that antenatal care coverage and facility deliveries have both more than doubled in three years.
To describe innovations in fistula program coordination, Mariama Moussa presented (PDF, 1,088KB) about her efforts as the coordinator of the Fistula Eradication Network (REF) in Niger. REF brings together donors, civil society organizations, nongovernmental organizations, and fistula service providers to coordinate strategic planning on where fistula treatment services are needed and how best to provide and strengthen them.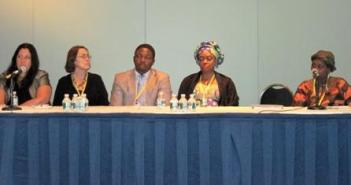 Program monitoring and evaluation is a critical component of all fistula work. Dr. Cindy Berg and Dr. Florina Serbanescu of the Centers for Disease Control and Prevention presented the work (PDF, 318KB) of the Data, Indicators, and Research Working Group (DIRG) of the IOFWG. This group has developed a compendium of 61 obstetric fistula indicators, with indicator modules addressing impact, policy and social environment, prevention, treatment, and reintegration.
Finally, Dr. Hamid Rushwan of the International Federation of Gynecologists and Obstetricians (FIGO) announced the development and field test of a new training manual for obstetric fistula surgery. This manual was developed by an expert committee with support from a diverse array of stakeholders. The training curriculum articulates what fistula surgical training should be, which means that we can now assess whether we are doing it correctly and can follow up appropriately with trained fistula surgeons. We can carry out structured, objective assessments of training outcomes and surgeons' knowledge and skills. All of this is critical for the bigger picture of making sure that trained fistula surgeons are able to provide quality repairs for women suffering from obstetric fistula around the globe.