At the request of the USAID Mission in Kinshasa, the Fistula Care Project co-hosted a meeting in April 2010 to bring together the network of fistula surgeons and other key stakeholders working in fistula programming in the Democratic Republic of Congo (DRC).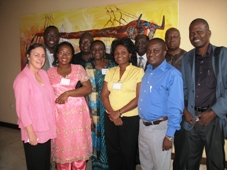 This was a follow-up to a previous meeting held in November 2009 at HEAL's Jubilee Center in Goma. The meetings were organized by Fistula Care and
Project AXxes, managed by Interchurch Medical Assistance. The November 2009 meeting was an informal fact-finding session to learn more about the availability of fistula services and hear perspectives from key experts working throughout the DRC. At the end of the meeting, the participants agreed to form a network and to meet again in six months.
In April 2010, 25 participants gathered at the Sultani Hotel in Kinshasa to continue the discussion on fistula programming. Stephen Haykin, Director of the U.S. Agency for International Development (USAID) Mission in DRC, welcomed the participants, and Lina Piripiri, USAID Health Officer, reviewed the meeting purpose and objectives. These included reviewing fistula prevention and treatment in the DRC, reviewing recommendations from the November 2009 meeting, developing action plans for future programming, and initiating a technical discussion on the role of urinary diversions in fistula programs.
Participants included fistula surgeons from six health facilities throughout the country that provide fistula repair services: HEAL Africa in Goma; Panzi Hospital in Bukavu; St. Joseph's Hospital in Kinshasa; Kindu General Reference Hospital in Kindu; Beni General Reference Hospital in Beni; and a mobile team that works in Sankuru, Kananga, Lwisa, Haut Lomami, Kasaï, and Katanga. Other participants included a urologist from the Kinshasa Teaching Hospital, a representative from the United Nations Population Fund, a urogynecologist from Harvard Humanitarian Initiative, representatives from nongovernmental organizations working in health, and representatives from the Ministries of Health.
The most important topics discussed during the meeting were developing a classification system for fistula care and treatment, using partographs as part of prevention, diagnosing inoperable fistulas, and developing a minimum package of care for fistula. Other topics of discussion included creating centers of excellence for fistula repair, developing a unique fistula training curriculum, creating a national committee to follow the problem of obstetric fistula, creating waiting houses for pregnant women, and engaging traditional birth attendants in fistula prevention, There was a lively discussion on urinary diversions for inoperable fistula and the requirements for health facilities and providers to offer this procedure. Using the national strategy of obstetric fistula as a guide, meeting participants developed action plans to address obstetric fistula prevention and the care and reintegration of fistula patients.
The Fistula Care Project has worked in the DRC since 2008 with partner facilities located in the eastern provinces. At HEAL Africa in Goma, the project has supported 787 repair surgeries, and has supported training in fistula repair, partograph use, and medical monitoring. Facility upgrades and equipment were also provided. At Panzi Hospital in Bukavu, the project has supported 897 repair surgeries and training in fistula repair and partograph use.