Working closely with and on behalf of the Uganda Ministry of Health (MOH), the Fistula Care Project has teamed up with a Geographic Information System (GIS) specialist from the U.S. Agency for International Development (USAID) to create two maps that provide in-depth information about fistula services across Uganda.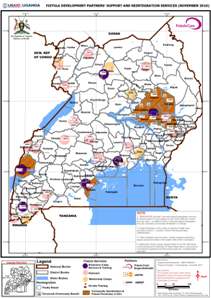 The idea of conducting a mapping exercise came from a presentation at the April 2010 meeting of the MOH's Fistula Technical Working Group (FTWG) on active fistula surgeons in Uganda. Fistula Care is an active member of the FTWG, a national group overseen by the MOH that assists in the coordination of and support for fistula services in Uganda.
Fistula Care began the mapping process with the MOH by collecting data from additional sources, including Fistula Care's records and data from the other two development partners supporting fistula services in Uganda (the African Medical and Research Foundation and the United Nations Population Fund). In June, Fistula Care presented a draft map to the FTWG.  The initial map was well-received by members of the FTWG, though it was deemed to lack some data. A Fistula Mapping Sub-Committee was created to verify the maps and compile additional data. The Sub-Committee is chaired by a member of the MOH and includes key Ugandan fistula surgeons, representatives from the three development partners supporting fistula services in Uganda, and the USAID GIS specialist.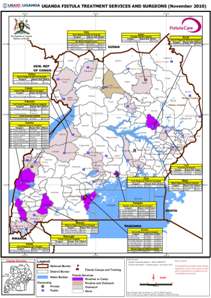 At the most recent FTWG meeting in October, Fistula Care presented two final maps to the FTWG, on behalf of the Fistula Mapping Sub-committee. One map contains information on available fistula services (routine/camp, outreach, and training for surgical teams), and fistula surgeons' skill level (ability to repair simple, intermediate, or complex fistula) and availability (active, visiting, or inactive). The second map indicates the location of fistula reintegration services (facility- or community-based) and the location and type of support provided by the three development partners.
The use of GIS mapping opens up many possibilities for improving the coordination and service delivery of fistula treatment, care, and prevention. Fistula Care plans to continue work with the Uganda MOH to explore ways in which the maps could be used for future planning, programming, and resource allocation and evaluation.