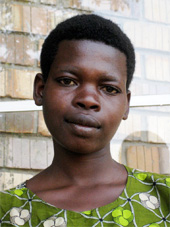 Edisa is a young Ugandan woman aged 20 years, but she has already traveled a long road. Both of Edisa's parents died when she was young. Edisa was raised by her grandmother, who could not afford to educate her beyond the first year of primary school. Edisa stayed with her grandmother until she turned 18, when she got married and moved to live with her husband as his second wife. Shortly after she married, her grandmother passed away; then, at the age of 19, when Edisa was pregnant with her first child, her husband suddenly died as well.
Edisa stayed in her late husband's home until it was time for her to give birth. When Edisa went into labor, her friends and neighbors contributed money for her transport to a local hospital. Edisa did not have money to pay for her treatment, however, and she labored without attention for two days. On her third day at the hospital, the staff finally attended Edisa, and they found that the baby had died. They performed a cesarean section and removed the dead baby. The nurses inserted a catheter, and she stayed in the hospital with it for four weeks. Since very little was being done for her, Edisa asked to be discharged from the hospital. The catheter was removed and Edisa returned to her late husband's home in great pain.
After her prolonged labor, Edisa could not walk by herself because of searing pain all through her leg and up to her waist, and she continued to leak urine. The first wife of her deceased husband refused to assist her, and none of her husband's relatives came to see her or offer her support. Luckily, a kind woman in the neighborhood would help her walk and take her to use the toilet. While Edisa was recovering at her husband's home, a visitor told her that she had the same problem of leaking urine after giving birth. She encouraged Edisa to be strong and referred her to the Kitovu Hospital, located 11 hours away.
Borrowing money from friends, Edisa traveled to Kitovu Hospital, but she had to wait to receive care. One of Edisa's relatives saw Edisa's condition and invited her to live with an aunt. She was welcomed in her aunt's home, and there Edisa gained strength and was even able to walk without a cane. She was encouraged when she learned that two other women in the village were fistula survivors who had been repaired. Nevertheless, with her leaking and searing leg pain, Edisa could not farm, go to church, or walk easily. In her aunt's village, no one insulted her. Most people were sorry to see the state she was in.
Finally, Edisa was admitted to Kitovu Hospital, and her fistula was repaired. Edisa is now dry, and she is grateful for the care she received. Now that she is dry, Edisa plans to go home and rest and recover fully before she starts farming again. Edisa is willing to consider marriage in the future, but she says, "I have learned that it is not good to get married at an early age. I will also tell young women to avoid getting pregnant. I will tell them what I have gone through." Edisa knows other women with fistula living near her aunt. "They told me that if I got cured, that they would also come. Now they will come." After six months of leaking and leg pain, Edisa ready to start her life over again.