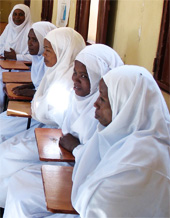 From Halima's self-assured manner in the delivery room of Darfur's Al-Fasher Hospital, an observer would never guess how far this former fistula sufferer has come. Now a certified village midwife, 25-year-old Halima assists in childbirth, saving the lives of mothers and babies and providing them valuable emotional support.
Halima's empathy derives from her own story as a fistula survivor. Halima has overcome the deaths of two children, abandonment by her husband, and two childbirth-related injuries to become a trusted health care professional. She says, "My treatment and my education have given me a new life, one full of hope."
Halima's first pregnancy ended in tragedy. Without access to medical care in the remote Marra Mountains in war-torn Darfur, she saw her baby die in childbirth. "From my village, it takes a whole day to reach the hospital walking or by donkey," she says. As a result of the prolonged labor, a fistula developed. Even so, she became pregnant again. Another difficult labor ended with a stillbirth and a second fistula. Soon thereafter, Halima's husband divorced her.
Halima was referred to Al-Fasher Hospital in Darfur, a facility that received training and funding for its fistula repair and prevention program from EngenderHealth. Two operations were needed to repair Halima's fistulas. In gratitude, she volunteered at the hospital, translating from Fur, her native language, into Arabic, an essential task in diverse Darfur.
The doctors soon noticed Halima's extraordinary ability to correctly identify the birth complications and problems of incoming patients, as well as her thoroughness in the critical task of monitoring the catheters of women recovering from fistula repair surgery. Perhaps most valuable was the indispensable counsel and emotional support she was providing to fistula sufferers, sharing with them her story of healing and renewed hope.
Sensing her potential as a health care provider, the doctors enrolled Halima in Al-Fasher Midwifery School. Twelve months later, Halima graduated third in her class of 85 and became a village midwife. She has since assisted at more than 60 deliveries throughout Darfur.
Caring for patients and providing help in translation has earned Halima the affection and admiration of the hospital staff, patients, and community. Emotionally and physically healed, Halima is now a trusted midwife. Her work, she says, is her life: "All that matters is that I help my fellow women and their children, that they will not know the suffering of so many others."