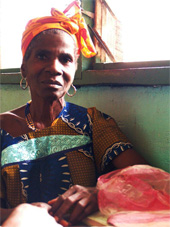 Fifty-year-old Mouima is in the maternity ward of Guinea's Kissidougou Hospital for a follow-up visit after surgical repair of a fistula. As a young woman, Mouima gave birth to one living son before undergoing prolonged obstructed labor during her next delivery. The result was a stillbirth and an obstetric fistula, which caused her to be incontinent for the next 28 years. When her husband discovered that she was constantly leaking urine, he rejected her. Returning to her parents' village, wrapped in layers of cloth as a diaper, Mouima relied on her mother, and later on her son, for constant assistance.
Tired of the constant leakage of urine, Mouima chose to eat and drink as little as possible. Because she suffered from constant dehydration and malnutrition, she often fell sick. One of the few fistula patients to survive decades without treatment, Mouima had her son to give her strength and a reason to live.
When Mouima learned that EngenderHealth had launched a fistula repair program at the hospital in Kissidougou, her son quickly paid for her treatment. With laughter and joy, she vividly describes how she was received back into her village "like a queen:" Her son sang and danced, weaving circles around her, calling for everyone to come and see how his mother had been healed. She proudly reports that she can be found once again dancing at village gatherings, relaxing in her neighbors' homes, and even traveling to visit family members in other villages.
On one of her frequent visits to Kissidougou Hospital to visit fistula patients, Mouima explained that four other women from her village who suffered from fistula had now received treatment as well. Most people in the village had thought that there was no cure for fistula, she explained, but her success story proved otherwise.